Set in stone with Colin Tate
09/06/2016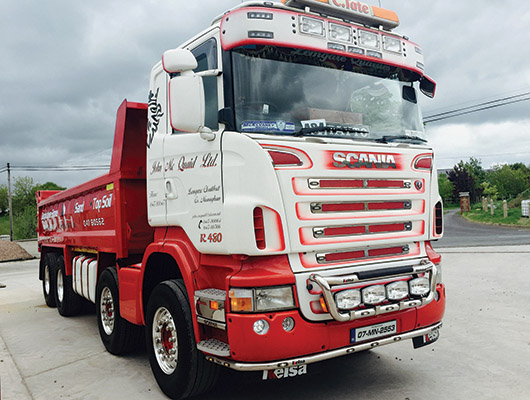 There's no doubting Colin Tate's love and passion for all things trucking. Ahead of the 2016 Full of the Pipe Truck Show Ireland, we caught up with the County Monaghan man at his Clontibret base to discuss the imminent trucking extravaganza and his own eye-catching fleet.

Full of the Pipe Truck Show Ireland is a nice breather for the hardworking truckers of Ireland and beyond. They bring their trucks and put them on display so that others can get an idea of the huge levels of devotion that go into keeping these vehicles in tip-top condition.
It's also a great opportunity to look at other truckers' wares; to meet friends old and new; and – most importantly of all – to have a bit of craic. To leave your troubles at the door…
As the eponymous individual behind Colin Tate Ltd. and Colin Tate Sand and Decorative Stone, Monaghan man Colin Tate oversees a fantastic fleet of four trucks from his Clontibret base on the outskirts of Monaghan town. He'll be bringing a couple of beauties to Cavan Equestrian Centre the weekend of June 11th/12th, 2016!
"I go over to it every year and it's always a good couple of days," he states. "I'm hoping to bring the [Scania] eight-wheel tipper again and I also have a new 161-reg Scania artic unit which I'll also be bringing."
The 2007-reg eight-wheel tipper is a veteran of many's the show ("I bring it to a right few and also to a lot of charity runs"), while, in stark contrast. the spectacular 161 unit is very much the new kid on the block. The stunning white and red beast – replete with eye-catching company livery – was purchased from McElvaney Motors in January and hasn't aged a second since!
"This will be its first appearance at a show," says Colin. "We brought it to the St Patrick's Day parades in Oram, Castleblayney and Monaghan town this year but haven't had it at a show yet."
It's all systems for Full of the Pipe Truck Show Ireland 2016. "We'll head over for the weekend, myself and my brother Alan. I drive the eight-wheeler and he drives the unit. We'll probably drop them over on the Friday night and then head back over in the van on the Saturday morning and polish them up. We'll sleep over on the Saturday night, all going well, either in the van or the unit. I'm looking forward to it. It's always a really good show with a great atmosphere."
As usual, Colin will be in the running for a few prizes. He takes prizes home most years and has a large selection of Firsts, Seconds and Thirds on display in Clontibret. "I usually get one or two a year, depending on what categories I enter. Every year is different and my lorry is getting older with each passing year, so there's competition both ways!"
While it's all about taking part to an extent, Colin feels that the prizes are important and admits he'd definitely rather go home with something in the cab beside him rather than nothing… "If you put in 100% and have the truck looking good and come home with a trophy, that's a nice feeling. It reflects the pride you have in your vehicle and the work you put in. It might be only a small reward but they are important and I certainly like to pick them up.
"If you won money or a voucher for diesel, it wouldn't be the same as a trophy. The money or voucher wouldn't last long, but the trophy is something you'll always have. Money doesn't really come into it at all. These weekends are all about taking pride in your lorries. You have to take a couple of days off work, put diesel in the lorries, and set aside a few quid for food and drink, so it can be costly. But it's worth it and nobody minds those things. You have to admire the commitment of the lads who bring their lorries from abroad or from long distances and it's always nice to see them taking home some prizes, too."
And then there's the fun side of the weekend, the social element, where likeminded people come together to renew acquaintances and shoot the breeze. "It's a good weekend's craic and it's nice to meet people again from the circuit and also to meet some new faces. The people there all have a lot in common and the atmosphere is always good.
"It's a good window to show off your truck and to demonstrate to people the pride you take in it and to let them see the condition it's in. It's nice to have that opportunity to show them off.
"There are two really good lads running it, too. They put a lot into the show and leave no stone unturned. They are very helpful and accommodating and you couldn't get too more genuine lads. You could throw them the keys on the Friday night and know they'll park it up for you for the Saturday morning and you wouldn't have a worry in the world."
Colin Tate Sand and Decorative Stone is one of the North East's leading suppliers of decorative stone, grave stones, bark mulch, sand and top soil, while parent company Colin Tate Ltd. is a general haulage company that specialises in and delivers driveway stones, grave stones and flowerbed finishes.
Colin Tate delivers decorative stone within the following areas: Monaghan, Tyrone, Cavan, Armagh, Fermanagh, Clontibret, Ballybay, Clones, Carrickmacross, Castleblayney, Keady, Derrynoose, Crossmaglen, Newry, Cullyhanna, Dundalk etc.
They also provide a service of preparing the driveway and the laying of driveway stones, while a wide range of building materials is available for building and plastering, including sand, cement and concrete mix.
"We supply decorative stone, bark, driveway stone and graveyard stone across Monaghan as well as parts of Cavan, Louth and Armagh," Colin concludes. "We can deliver large or small quantities – from one tonne up to 100 tonnes. It's not going too badly but we could be doing with a bit of good weather."
Amen to that.
Colin Tate Sand and Decorative Stone,
Aughnameal,
Clontibret,
County Monaghan.

Tel: 086 8343848
Email: [email protected]