The pride and the passion - Charlie Doyle
09/06/2016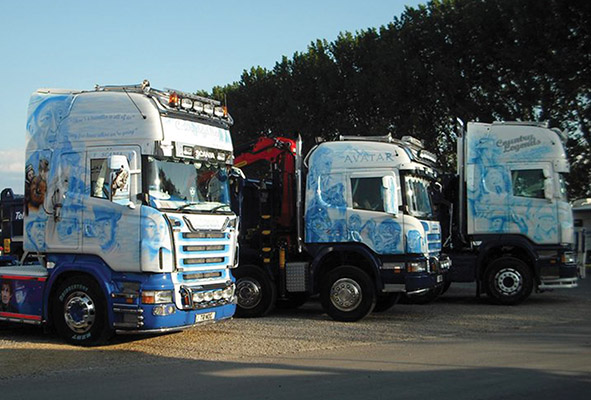 For Carlow native Charlie Doyle of Doyle Plant Hire & Construction Ltd. in Windsor, England, truck shows are not a matter of life and death – they are way more important than that! Charlie will be at Full of the Pipe Truck Show Ireland again this year and he'll have some wonderful vehicles on show at the highlight of the Irish truck show circuit.
Some people leave no stone unturned in their quest to present the most beautiful, aesthetically pleasing and driver-friendly trucks. HGVs that turn heads, that blaze a trail through the murk of everyday life and bring a smile to the faces of all those who witness them. Charlie Doyle is one such individual. To say that he takes pride in the presentation and upkeep of his fleet would be a clear exercise in understatement.
The Carlow man - who fronts UK operation Doyle Plant Hire & Construction Ltd. in Windsor, Berkshire – will make the annual pilgrimage to the Cavan Equestrian Centre again this June and will be unleashing 'The Wolf' – a spectacular new Scania which is making its maiden appearance at a truck show.
Anyone who has an understanding of the attention to detail that Charlie invests into turning out his vehicles will know that spectators and fellow truckers alike are in for quite a treat when 'The Wolf' goes on display for the very first time.
It's fitting that the 'The Wolf' will makes its bow in Cavan: Full of the Pipe Truck Show Ireland has really caught Charlie's imagination and the weekend is now one that he marks into his calendar as a mandatory assignment every year.
"I was there in 2013 and again last year," he notes. "This is going to be my third time travelling over and I'm really looking forward to it. I'm planning on bringing a few lorries, although obviously work comes first and most of them will have to stay at home and earn their crusts."
Charlie has nothing but good words for the show itself and the organisers, who invest their hearts and souls into making Full of the Pipe Truck Show Ireland a reality every summer. "They put on a great show and it is absolutely outstanding," he states. "Everything you could possibly need is there for you and everybody is made to feel very welcome.
"I go to a lot of truck shows – I've been to them all in Ireland and the UK – and I can safely say that Full of the Pipe Truck Show Irelalnd is as good as any, if not better than most. It's everything a truck show should be. There's always a great atmosphere and it's extremely well organised. They really do make everybody feel welcome, especially the UK boys who come over for the weekend."
At the time of writing, Charlie wasn't yet sure exactly how many trucks he was going to be bringing over. "I will definitely have two there and will also bring a third new one if it's ready in time," he revealed. "I'm bringing 'Into The West' again, which is a Scania tractor unit, and I'm also bringing 'The Wolf' lorry, which is a brand new eight-wheel tipper operated by my son, Daniel, who's been with us for five years now.
"Daniel used to drive the 'Pirates of the Caribbean' one, but we sold that and we're now bringing in this new lorry. It's due back from Special Interiors and will be ready soon. It's not even on the road yet! We have it all airbrushed and it's a really nice Scania tall cab Highline."
Big expense goes into the artwork that adorns the Doyle Plant Hire & Construction fleet, with the interiors of the vehicles treated impeccably as well as the exteriors. The artistry of the paintings on the trucks is breath-taking and it would be fair to say that each unit in the fleet stands out.
Charlie gives each truck a unique theme. In the past, he has had many based on iconic movies – Into the West, Pirates of the Caribbean, The Quiet Man, The Avengers, Avatar etc. – as well as 'Country Legends', which was a big hit at Full of the Pipe Truck Show Ireland in 2015.
"The truck show is my holiday," the enthusiastic Carlow man continues. "All the lorries here are airbrushed and, to be honest with you, I'd love to bring five or six of them over, but that isn't feasible as work has to come first."
At present, Charlie operates a fleet of nine trucks in total and a brand new T Cab is being built as we speak, which will bring the fleet size up to ten. "It's very busy over here and I can have no complaints on that front," he adds.
Specialising in bulk excavation groundworks, Doyle Plant Hire & Construction Ltd. has provided a service to the Thames Valley and the South East of England since 2003. Fully customer-focussed, they always try to be flexible with last-minute requests, while special requirements are met if at all possible.
Charlie runs a wide range of lorries – including Scania, Volvo and Mercedes – all of which are grab hire. The fleet is upgraded and refreshed on a regular basis and each vehicle is kept in tip-top shape at all times.
All aspects of bulk excavation and ground works are undertaken, and Doyle Plant Hire & Construction have been involved in countless projects over the past 13 years. The fleet comprises 24hr grab lorries and 24hr tippers, with machine hire and driver hire also available.
Crushed concrete, ballast, soft sand, white sand, sharp sand, builders sand, shingle, top soil, large granite stone and granite pebbles are also supplied.
The Carlow man has been working and living in the UK since the mid-80s and has never looked back since leaving home three decades ago in search of employment.
Events like Full of the Pipe Truck Show Ireland present him with a great opportunity to come home for a few days and to show his remarkable vehicles to thousands of appreciative people in a relaxed and mutually-beneficial environment. The spectators certainly enjoy it too! Everyone's a winner!

Doyle Plant Hire & Construction,
Windsor,
Berkshire,
United Kingdom.
Tel: 01628 824236
Mobile: 07786264812
E: [email protected]
Web: cdoyleplant.co.uk