Full of the Pipe Truck Show Ireland 2016 - 11/12 June
08/06/2016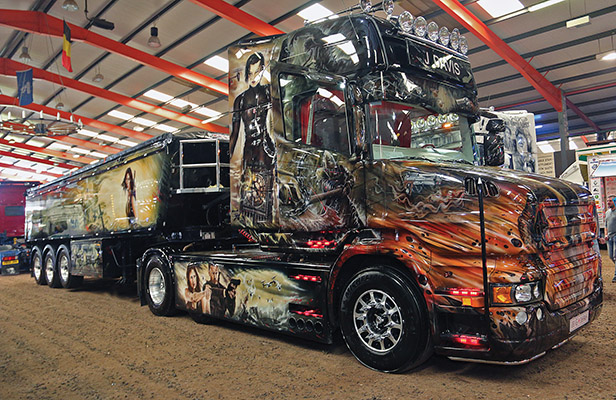 Once again Full of the Pipe Truck Show Ireland takes place in the Cavan Equestrian Centre and as always a packed weekend is in store for all as this event goes from strength to strength.
Event organisers Kevin Mulqueen and Colin Hegarty have left no stone unturned in their search to make this show the best of its kind in Ireland.
Full of the Pipe is the brainchild of these two men whose love of trucks has seen them involved in the haulage industry for over 20 years.
Kevin picks up the story and tells us where the idea came from for what has become an integral part of the haulage calendar over the last seven years.
"I was in America at 17 years of age and I spent time in New York and San Francisco. When I was over there I was driving a truck for a while and then I returned home where I started working in Whelan's Quarries," said Kevin.
"There I met Colin and we struck up a friendship. While there, Colin bought a truck and started to do private work for Whelan's and other local companies. We both attended a truck show in Limerick and that is where the initial idea came from."
Kevin revealed that from having the idea in the first place to hosting the first show took about two years in the making.
"Having had the idea for the show, we saw the facilities in Athlone and Colin and I discussed it some more and decided to go ahead with it and see how we got on.
"After a lot of planning, the first show was held and we were happy with it, so we decided to do it again the following year. A bigger crowd attended in year two and Saturday was a great day, but it was an outside venue and it absolutely lashed on the Sunday and it was a total washout. It was really a terrible day.
"At that stage, we didn't know whether to continue with the shows or just walk away from it altogether. I was then at a Scouts of Ireland event with my son in the Showgrounds in Ennis and I was asking people was there a suitable indoor venue for our show and one guy told me about the Cavan Equestrian Centre. So myself and Colin took a drive up to see and we were delighted with it. The only concern was the location as it wasn't as central at Athlone, but we decided that with it being an indoor venue that we would give it a try."
There was no need for Kevin and Colin to worry about the location as the event was attended by hundreds over the course of the weekend.
"We were delighted with the turn out and the Equestrian Centre is an ideal venue. There was no doubt that we had found our new home. The second year in Cavan was better than the first, but it should have even been better. We realised that we had to put more work into it and we started to go to more shows and talk to people on the ground and get our names out there. The workload was upped considerably and I feel that you can see that in the show each year since.
"You have to keep your foot on the pedal and make sure each year is different in order to keep people interested. It doesn't get any easier, but we enjoy doing it."
From the very beginning, Kevin and Colin had always planned to support some charities. Over the years the likes of the ISPCA, the William Winder Rainbow Foundation, Barnados and Heart Children Ireland are just some of the charities that have benefitted from your generosity over the years.
"Giving something to charity was always something we were going to do. Right from the offset, we have supported different charities, but in latter years we have focused more on one charity than supporting a load.
"For the past couple of years it has been the Heart Children Ireland charity and without the crowds that attend, it wouldn't be possible to support the charities."
The seventh annual Full of the Pipe Truck Show Ireland is set to be the best yet and Kevin is confident that they can continue to deliver a top quality event.
"The organising certainly doesn't get any easier and like I said, we have to ensure that people don't lose interest and that is why we try to revamp the show every year and we're confident that this year's will be a success.
"I'd like to take this opportunity to welcome everyone to the show and hope ye all have a great weekend. This is a chance to unwind and relax from what can be a turbulent industry, so enjoy!"