A Family Coach Hire tradition
02/06/2016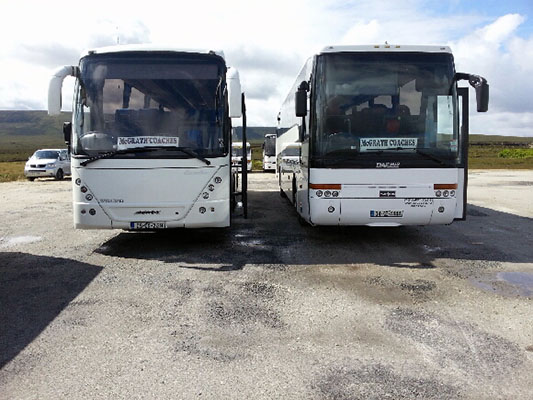 Providing a vital link to the spectacular Wild Atlantic Way, McGrath Coaches is renowned as one of the premier coach hire companies in the west of Ireland. We popped into the beautiful Glanamoy Village where McGrath Coaches are based to get an insight into this impressive long-running family operation from Tom McGrath.

McGrath Coaches is a family-owned and independently owned coach hire company, which has been operating out of Glenamoy village in North Mayo for over half a decade, providing daily scheduled local services, coach tours, school transport, private hire, contract hire and a whole lot more. McGrath Coaches have built their reputation by providing a quality service that is second to none.
Operating a fleet of luxury coaches, mini buses and Hackney cars of varying sizes and specifications to suit every customer requirement, McGrath Coaches provides daily services from rural North Mayo to Ballina and Castlebar as well as golf tours, airport transfers, football trips, wedding parties, hospital appointments, pilgrimage tours and a variety of national and international transport.
To ensure total safety and reliability, the fleet is maintained in-house in the family's own workshop.
Providing safe and affordable transportation has been in the McGrath blood for over a century, with the genesis to the existing business going back over 100 years! "We can trace our history back to a man called Michael Owen McGrath, who brought people from the Erris peninsula to the train station in Ballina on a horse-drawn cart, in the early nineteen hundreds , when trains first started to come into Mayo," Tom points out.
"My grandfather, 'Old Paddy' McGrath, who was a lieutenant in the First World War, returned in 1923 and got his first Hackney plate in the area. As a Hackney man, he got a post run and did that for 42 years. He had a family of nine – seven daughters and two sons. By morning he was a Post Man and in the afternoon he was a hackney man and a builder which saw him build nine houses in the village and by night he was a musician. The family had a band made up of the seven girls and the two boys – playing in the local dance halls throughout north Mayo. His sons are my father Michael and my uncle Paddy."
Between them, they got their first minibus around 1948/49 and the rest, as they say, is history…
In the 1950s, 'Old Paddy', Paddy Jnr. and Michael also started into haulage with Austin and Bedford trucks, drawing turf from the north mayo area to Ballina Train Station, which was then transported to Dublin where it was used to heat hospitals.
"In the 1950s they also started a service from the Erris area in North Mayo to Dublin. They started once a week and that became a daily service as the years went on," Tom continues. "My uncle Paddy moved to Dublin and my father, who trained as a mechanic at McAndrews Garage in Ballina, remained here in the West. The driving was all done by my dad Michael, uncle Paddy and Brendan Rooney and my grandfather "Old Paddy". They used to meet in the middle of the country, in Longford, and transfer the passengers. That continued throughout the '50s and '60s.
"Dublin – Mayo is up to five hours for us now but in the '50s and '60s it was 10-12 hours, so you had to have a midway meeting point."
The daily service to Dublin continued up until the 1980s, when Knock Airport arrived.
Tom's mother Mary and father in the early days of their relationship worked in Peterborough in the UK, where Mary McGrath worked for the bus operator, Eastern Counties in Peterborough. Mary and Michael got married and they returned to Ireland in the early '60's and set up home in Glenamoy. Michael was operating a daily minibus service from Mayo to Dublin an also playing music every weekend, while Mary reared their five children – Mary, Pauric, Sally, Micheal and Thomas. In the1970's school services were given to the villages and we started doing school bus contracts for CIE. We still cover some of the same routes today and we're now taking the third generation of those families to school.
The daily service to Castlebar and Ballina, which is still ongoing six days a week, was started in the 1980s, initially to serve the hospitals, transporting passengers from rural areas. McGrath Coaches has also done a lot of work for the Health Board down through the years.
"We bought our first 53-seater, a Ford Plaxton Supreme, in January 1987," recounts Tom. "We had operated mostly 8, 14 and 25 seaters before that but this was our first 53-seater coach at McGrath Coaches. It's retired now but we still have it in the yard and it will be restored at some stage.
"We bought a lot of Fords and Leylands until 1995, when we started to do tours and bought a DAF coach. Because we had that particular coach, we also started working for Bus Eireann at weekends and we still do that today, covering local routes."
After completing his Transport Managers course while away in Dublin, Tom then joined the family business that same year. Today, he runs the operation alongside a dedicated team of full and part time staff. Also his Mother Mary and dad Michael Snr and his wife Angela, with children Aoife, Orlaith and Michael Jnr. all getting involved. "Everyone in the family had a bus licence as it was a tradition growing up to have one," he adds. "The business still works out of my parents' house where they started over 50 years ago. My mother still answers the phone here and is still the backbone of it and my Dad is still involved too.
"Most of the drivers and mechanics are local and the vast majority of them have been with us for a long time and they have and still do give great service."
McGrath Coaches run a mixed fleet of DAF, Scania, Volvo, Mercedes-Benz and Ford as well as a number of Hackney cars. The workshop was built in the mid 1980's to facilitate for the larger coaches and the original workshop is still used as a store dating back to the 1950's. A new yard and parking area was added to facilitate the fleet in 2007.
Regarding the nature of day-to-day activities at McGrath Coaches, Tom continues: "It's mixed work. We do the local daily services , school transport, community transport, daily Route Services for Bus Eireann we do transportation of the Irish students for Colaiste Acla .Since the 1970's we have worked for the HSE and on occasions providing Ambulance back up service in the remote areas, taking people to the hospital for dialysis and oncology . We also do tours of Ireland working with different tour operators within Ireland as well as the UK and the US."
Tom McGrath enjoys all aspects of the business from being Operations Manager to Mechanic to driving. "It's a vocation," he notes. "You're at it seven days a week and you can't take your eye off the ball. You have to have a lot of patience and understanding and you also have to have an understanding partner because a lot of hours go into it".
"We'd love to see this area promoted more because there's so much to do and see here and the potential remains largely untapped. There's so much in North Mayo to show people; I'd love to get more tourists in because it's a truly spectacular place."
Regarding the need for regular investment in the fleet, Tom adds: "You have to keep spending. We have had a tendency to hold onto vehicles and keep them for a long time. When we decide to let a vehicle go, we like to know it is going to a good home. Traditionally, we've bought quality second-hand coaches but things are changing in the transport sector. There's a shortage of quality second-hand vehicles out there so going forward we will be looking at purchasing new vehicles.
Is it difficult to balance the books and ensure that you are running a viable business as well as providing key services? "It is, and you have to look at the future too," Tom concurs. "You have created this, but you have to feed it and sustain it. You have to look down the road and adapt as services and technology change. A new coach is a major investment – but brings with it new opportunities of expanding your work into other areas.
"Coach transportation today is a constant change and to be able to adapt is vital. It's a total devotion but in fairness it's not drudgery – you do it because you enjoy it".

McGrath Coaches
Glenamoy,
Ballina,
County Mayo.
Tel: 097 87842/M: 087 231 3029
Email: [email protected]
Taken from Irish Trucker & Light Commercials magazine, Vol 18 No 7, September 2015