A money back guarantee
18/05/2016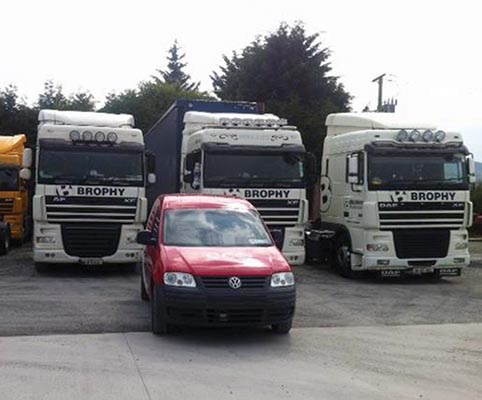 ECO Performance Solutions specialise in advising their clients on the best type of method for improving their vehicles fuel consumption, performance and reliability as well as reducing emissions.
County Kildare-based ECO Performance Solutions was set up primarily to reduce fuel costs for companies in the transport industry. They do this by fine tuning the vehicles for optimum fuel efficiency.
They claim to achieve between 10% and 30% improved fuel economy in trucks, and if the results aren't achieved, the customer doesn't have to pay for the service.
"All you need to do is test it out for a couple of weeks, a sufficient amount of time to notice how much less fuel you're using," the brains behind the Kildare operation, Brian Connolly, says. "We have a mobile nationwide service where we call out to our customers and carry out the work on site.
"Our research shows that it usually takes less than six weeks to recoup the cost of our service. If our customers don't see the improvement we promise we give them their money back and restore their vehicles to the original setup, so there is absolutely no risk in trying this out."
Brian can't say fairer than that and it's a clear sign of the confidence he has in his company's services. The seeds for ECO Performance Solutions were sown during Brian's time in DIT Bolton Street where he qualified as an Automotive Management Technician.
The family's haulage company also provided Brian with plenty of food for thought. He explained: "My father ran his own company from 1990 and is still going today. The big thing for him was always maximising fuel efficiency in the trucks to keep profits up.
"We specialise in improving fuel efficiency in trucks and we improve it in a number of ways. For instance, when it comes to heavy haulage trucks, one of the main problems we find is that they are often under powered in certain situations for the work they are expected to do and engines are having to work harder to produced the performance required.
"You need to give the truck more pulling power, more torque in these situations and the way we do that is by changing the amount of fuel and air going into the engines when they are under severe pressure. We improve the power/weight ratios which results in less fuel burn. It means drivers can stay in the higher gears on hills, and get up to cruising speed much faster.
"Another big selling point is the fact that we improve the reliability of trucks because they are not over-revved or worked as hard, with far less gear changing needed."
What separates Eco Performance Solutions from it's rivals?
"What we do differently is we look at each individual lorries exact needs. We sit in the passenger seat along with the driver on a regular work day and we diagnose how to improve fuel efficiency and also educate improved driver style. We can tune the truck live on the road under all conditions where it is losing fuel efficiency, and improve those areas."
If you can run your vehicles as efficiently as possible, you can be guaranteed that you will have a lot more profit at the end of each year.
"Business has been very good, we haven't had a break in the last 12 months and that's all down to word of mouth.
"One of the main challenges in our line of business is manufacturers' warranties. Newer vehicles out there are under warranty and people don't want to risk their warranty becoming void, but we have ways to complete our services without the risk of affecting warranty. Everything we do is safe and within the manufacturers limitations for the vehicle.
"Another challenge is the fact that a lot of people are sceptical about this, 'if it's so straight forward why don't manufacturers do it?' is a question we're often asked. It's a new concept and, in our experience, a lot of people didn't realise it is possible. But we're confident that people who try it out will see a real difference in their bottom line.
"And, there's no risk involved for our customers because of our money back guarantee, so they simply can't lose."
ECO Performance Solutions
Rosdara, Branganstown
Kilcock
Co. Kildare
Mob: +353 (86) 1782428
Email: [email protected]
Website: www.ecoperformancesolutions.ie
Taken from Irish Trucker & Light Commercials magazine, Vol 18 No 7, September 2015