The ICE men have arrived ...
04/05/2016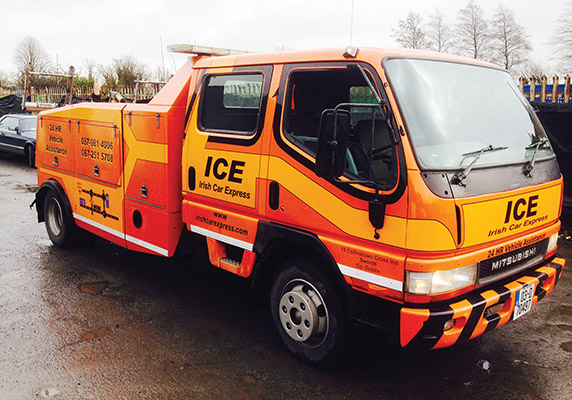 Since its genesis in 2014, Irish Car Express Ltd. (ICE) has quickly developed a reputation as one of Ireland's premier breakdown / recovery operations – not least because they are prepared to take to the road in even the most inclement weather conditions. We visited their base in Swords, County Dublin to get an insight into this exceptional family business from father-and-son team John and Jonathan Moulds.
Three generations of the Moulds family have been synonymous with breakdown and recovery: grandfather Tom; father John; and brothers Johnathan and James. Between them, they boast decades of experience of this specialist area and provide a thoroughly professional service, handling all types of cars and vans, including a specialist high-end vehicle recovery /transportation service.
With all personnel fully-trained and experienced – not to mention deeply passionate and enthusiastic about their work – and a fleet of the finest, most versatile recovery equipment that money can buy, Irish Car Express Ltd. is rapidly forging a reputation as the premier breakdown / recovery operator in the greater Dublin area and beyond. ICE has come a long way in a short space of time…
"The business was set up in March of 2014 by myself and my brother James," Jonathan notes. "My father and grandfather would both have been involved in towing, breakdown and recovery work and we all worked for different companies over the years. We decided to go out on our own last year and Dad is also working here with us. We have five staff in total at the moment and business is going well."
For a cost-effective, professional breakdown assistance and vehicle recovery service, 24 hours a day, seven days a week, 365 days of the year, with all the required insurance cover in place, Irish Car Express provides an unrivalled solution, with a competitive 30-60 day credit account available to motoring clubs, the car hire industry and garages.
The impressive fleet – which includes multi-vehicle transport units - is equipped with on-board diagnostics, allowing the ICE team insofar as is possible to diagnose and repair vehicles at the roadside. Where this is not possible, the fleet includes vehicles with crew cabs, so that everybody can be brought home safely and quickly.
Irish Car Express are AA-approved and fully-insured recovery technicians, specialising in deep ditch and soft ground recovery. They operate custom-fitted vehicles, including light but powerful all terrain buggies which are fitted with equipment which can easily help recover vehicles when conventional gear just can't get the job done.
Meanwhile, the workshop in Swords is also fitted with state-of-the-art equipment, allowing the team to carry out all aspects of vehicle servicing, from oil changes to tyre changes etc., all at a competitive price. Pre-NCT checks are also provided.
Irish Car Express' winch and lift equipment allows them to access vehicles where others fail, including tight driveways and enclosed areas. As all vehicles can be removed without so much as a scratch, the Dublin 9 based company has forged astellar reputation as specialists in the transportation of classic and luxury vehicles – all of which are treated with the utmost care and attention.
In a nutshell, Irish Car Express is equipped to handle any recovery or vehicle transportation job, no matter how difficult or daunting. "We specialise in hard-to-reach and awkward stuff and we do a lot of difficult stuff that other people don't want to do," Jonathan confirms. "We don't turn down work and we won't see anybody stuck.
"We also have a purpose-built truck for shifting high-end vehicles, which was designed by my father. It's a one-off stretcher which goes in beneath the vehicle and lifts the entire frame without leaving so much as a mark. We pride ourselves on being specialists. The objective is to move the vehicle without scratching it and we do this every time. Other companies call themselves specialists but they don't seem to have the same quality service we have."
Fleet-wise, Irish Car Express operate eight recovery trucks (a mixture of Mercedes-Benz, Renault and Mitsubishi) plus one jeep and van. The recovery gear is sourced through the Roger Dyson Group in the UK, with Setanta Trucks looking after maintenance and repairs. At the time of writing, an American crew cab was on its way.
Within the next twelve months, the Moulds family intend to move more and more into commercial vehicle work. "We don't do a lot of commercial work at the moment, but we can recover box bodies and can comfortably take up to 7.5 tonnes," Jonathan notes. "We will look to get into the heavier stuff sometime around the middle of 2016."
Even though the family were already well known in the recovery business prior to set-up, Jonathan has been pleasantly surprised by the positive reaction to Irish Car Express: "It has gone really well. I wouldn't have thought for one minute that we'd be as busy as we are or that one year in we'd have five people working here, but naturally I'm thrilled with how it's going. It just goes to show that when you provide a good service, people will use you.
"We offer a private service and we also do some contract work for the AA, select car hire companies and Renault Ireland. A lot of the business comes through positive word of mouth. For example, we started with one car hire company and are now working for five of them.
"We are available around the clock, 24 hours a day, seven days a week and we will go anywhere. Even though a lot of the work is based in and around Dublin, you could end up anywhere in Ireland with the car hire companies."
Are there plans for future expansion? "A business that doesn't want to go anywhere is a business that won't go anywhere. We are getting busier and hopefully we will be in a position to take on an extra man during the summer. We will keep pushing forward and we are in the process of building a new workshop at the back of our compound."
Of course, the black market is rampant in the breakdown / recovery sector and one of the greatest difficulties facing legitimate businesses is to offer a professional service at a competitive price. "The black market is always going to be there but we are fully trained and fully insured and we have sat all the relevant recovery courses so people have the peace of mind of knowing that they are getting a reputable service.
"At the end of the day, it does come down to price and there is no end of people who aren't qualified and have no insurance but will take the work off you. Even though we run a yard, an office, a workshop and a canteen and are a fully professional operation, 'Fred In The Shed' is always going to be there. That's the reality of it.
"We are the fifth emergency service after the Guards, the fire service, the ambulance and the coastguard, but we're not recognised as such. When you deal with Irish Car Express, you are dealing with professional breakdown service personnel who have vast experience, are fully trained and insured and have all the right gear. There's no substitute for that."
A growing number of customers agree wholeheartedly!
Irish Car Express Ltd.
Collinstown, Cross Industrial Estate. Swords,
County Dublin.
Tel: 087 9814006 / 087 2515708 / 086 0280898
Taken from Irish Trucker & Light Commercials magazine, Vol 18 No 6, August 2015