Quality limestone products and a lot more besides
03/05/2016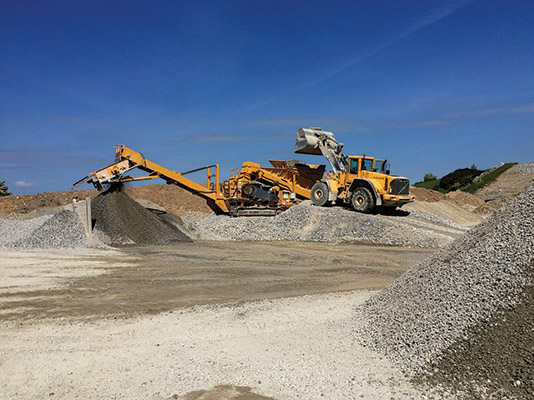 As well as being the premier supplier of limestone products in the midlands, Mannion Quarries offers a wide range of supplementary products and services. We travelled to the company's central base at Belnamulla – approximately ten kilometres from Athlone and 15km from Ballinasloe – to get an insight into this long-running operation from quarry manager Enda Hughes.
From their well-appointed quarry at Bealnamulla, Athlone, Mannion Quarries supplies a range of crushed limestone products to the agricultural, construction, civil engineering and roadways sectors. They also supply sand and gravel products as well as keen truck / plant hire, site clearance and crushing & screening services.
Very much a customer-orientated business, Mannion Quarries has come a long way since it was founded two decades ago by Michael Mannion, developing an unrivalled reputation for delivering high-quality products and services on time and at a reasonable price, forging strong ties with a large number of longstanding customers, including Roscommon County Council and Westmeath County Council.
Reflecting on the inception of this impressive operation, quarry manager Enda Hughes, who joined the Mannion Quarries team in 2008, notes: "It was started up by Michael Mannion, who still oversees the business today. Michael would have come from a farming background and the quarry here at Castlesampson – which is about 15 hectares – was on his own land."
The quarry was rich in limestone and Michael decided to mine it. He was soon doing business with a host of local authorities, builders and farmers alike.
The full range of crushed limestone products available for either collection or delivery includes: Clause 804; Maintenance; Quarry Dust; Drainage Chipping - varying sizes; Specialised Chipping for driveways; 2-6" Down Stone; 3-6" Clean Stone; Crushed Gravel; Pit Run Gravel; Washed Sand and Topsoil.
Regarding the customer base, Enda reveals: "We supply farmers, councils, a full range of civil engineering projects and house builders, while we also supply drainage materials. Approximately 50% of it would go to road projects – mainly to Westmeath and Roscommon County Councils but also on a smaller scale into Galway and Offaly."
While the economic downturn wreaked havoc with everything even tenuously connected to the construction industry, Mannion Quarries tightened their collective belts and weathered the storm, coming out the other side as a stronger and more efficient business, currently providing gainful employment to a team of 20.
"There were some very tough times," Enda reflects. "2009, '10 and '11 were particularly challenging. But there has been a steady pick-up again and things are improving. We are on a very solid footing now again compared to where we were four or five years ago."
In addition to a fleet of quarry machinery including primary and secondary crushers, screeners, loading shovels, excavators and dump trucks, Mannion Quarries also operate a fleet of lorries – all Volvo – delivering stone to customers all over the midlands, from Loughrea / Cappataggle in County Galway to Kinnegad on the Westmeath / Meath border.
At the time of writing, Mannion Quarries was busy working on a number of prestigious contracts, supplying stone for a new service station, bridge and flyover on the M6 (Roadbridge being the main contractor), Jazz Pharmaceuticals' new manufacturing and development facility at Monksland, Atlone and ongoing work with Roscommon and Westmeath County Councils.
"Westmeath County Council are building a new cycle lane alongside the old Mullingar – Athlone railway line and we have been supplying stone to that for the past six months," says the quarry manager. "That project should continue towards the end of the year."
A keen truck hire and plant hire (crushers, loading shovels, excavators, dump trucks, water pumps etc.) service is also offered to customers in the greater Athlone area, Mannion Quarries have their own workshop, fronted by a full-time fitter, and the vast majority of preventative maintenance, servicing and repair work is carried out in house to keep overheads down and ensure customers of the best-value products and service possible.
All in all, this impressive Athlone-based business has been a definite success story for the past 20 years or so and the signs are encouraging that this will continue to be the case moving forward.
"Around 2009/2010, it was all about cutting back and keeping things lean and doing what we could to keep our costs down," Enda concludes. "We continue with that policy today and we continue to run a very tight and efficient operation.
"We also pride ourselves on being punctual and, of course, we have a very good product. We stick to a good competitive price, too, and I'm sure our customers appreciate this."
The success of Mannion Quarries proves that – in any line of business – a combination of good product, excellent service and keen price is difficult to beat!
Mannion Quarries,
Castlesampson, Bealnamulla,
Athlone,
County Roscommon.
Phone: 090 9683803
Fax: 090 9683804
Email: [email protected]
Taken from Irish Trucker & Light Commercials magazine, Vol 18 No 6, August 2015