Winner all right
26/04/2016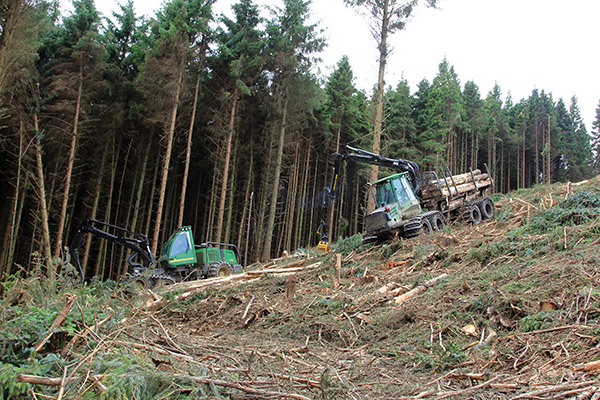 Coillte Woodflow's "green credentials" were recognised at this year's Irish Logistics and Transport Award where they walked away with The Green Mover award.
Launched in 2010, the Irish Logistics and Transport Awards celebrate excellence in the industry, under the auspices of the Chartered Institute of Logistics and Transport (CILT).
The individuals and companies,and their clients, who comprise the logistics and transport industry in Ireland are truly world-class operators, adding value to the business process and creating a competitive edge for Irish business that, in these tough times, is needed more than ever before.
On Thursday, March 19th, at the DoubleTree by Hilton Dublin, Burlington Road, the cream of Ireland's transport and logistics sector were recognised and celebrated in front of an audience of almost 400 senior executives.
Hosted by radio personality Dermot Whelan, 19 prestigious trophies were presented to the very best leaders and organisations within Ireland's logistics and transport sector.
Coillte Woodflow were popping the champagne corks on the night following their success in The Green Mover category.
The Green Mover award recognises outstanding achievement in the reduction of environmental impact and the judges were looking for a clear plan and evidence that it is delivering on core objectives, paying particular attention to reductions in emissions, reduction in waste, improved sustainability and staff involvement.
The judging panel were obviously impressed with Coillte Woodflow's submission which highlighted the positive impact that the introduction of a new GPS and fuel management technology has had on their day-to-day activities and, most importantly, the environment.
"There's a lot of people involved, a lot of stakeholders across our business and it was a privilege to receive such a prestigious award for a company like ours which is very much focussed on the environment and the success underlined our green credentials," enthused Coillte Woodflow Team Leader Findan Cox who accepted the award on the company's behalf.
"We were successful because of the fact that we were able to demonstrate the real environmental benefit to the introduction of the system, where all trucks are electronic and GPS enabled, and because of the cross collaboration between ourselves, hauliers, suppliers and the forestry sector in general."
Supplied by Galway-based company Blue Tree Systems, the GPS and fuel management technology has been installed in 350 trucks in the Irish timber haulage fleet and provides timber hauliers with information on energy usage and has significantly helped reduce fuel consumption.
The hauliers realised minimum energy savings of 5% - or the equivalent of 2GWh – on an annual basis. This equates to a reduction of an estimated 189,000 litres of diesel with an expected cost saving of approximately 230,000.
The environment is also a winner as the reduction in fuel consumption represents an annual saving of 508,0000kgs of C02.
All load documentation is created electronically on the in-cab computer and has eliminated the need for paper dockets and docket boxes in the forest.
"We've taken the paper out of the forest," added Fintan, "while the technology allows haulage companies to optimise performance and monitor diagnostics on trucks and drivers."
Hauliers working directly for Coillte are required to have the technology on board because truck performance and driver behaviour are key. The operator has full access to where his truck is and what it's doing. Everything is being monitored in real time and also recorded.
The operator can access this information 24/7 and has the comfort of knowing where his equipment is, or was, at any given time.
"Blue-Tree is an Irish success story based in Galway who operate in a niche market and we are fortunate to work for them.
"We went global in terms of our search to identify a partner to provide us with logistics management services. In association with New Zealand-based Asset Forestry, we have put together a solution using our own systems – Coillte Forestry Management system."
Coillte's core purpose is to enrich lives locally, nationally and globally through the innovative and sustainable management of natural resources
Coillte is a commercial company operating in forestry, land based businesses, renewable energy and panel products.
The company employs approximately 1,000 people and was established in 1988. It owns over 445,000 hectares of land, about 7% of the land cover of Ireland.
Taken from Irish Trucker & Light Commercials magazine, Vol 18 No 6, August 2015