IMVRA - representing authorised vehicle dismantlers
20/04/2016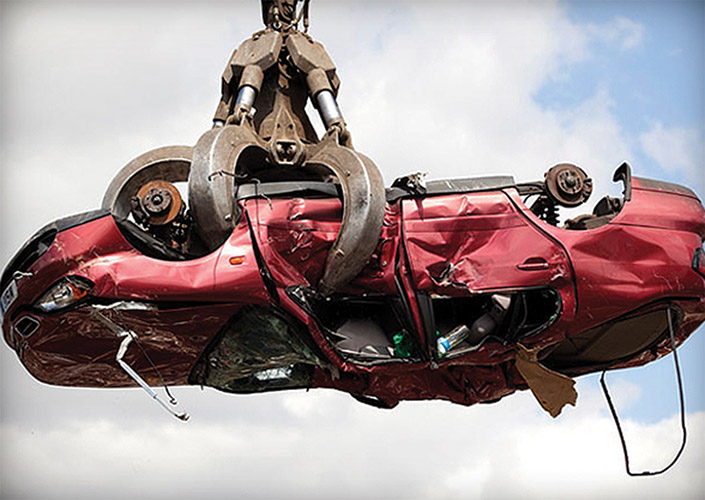 For those who don't know, the IMVRA is representative body/trade association that represents authorised vehicle dismantlers in Ireland. The association promotes the safe reuse of "green" vehicle parts.
IMVRA members are at the heart of green economy and have been recycling long before the term became popular. They also reduce the requirement for foreign imports and create local jobs. Membership is open to all authorised dismantlers in Ireland.
Members of the public should always ensure that old cars or scrap metal are either delivered directly to authorised waste facility permitted sites or else collected by authorised collectors. You should look for a copy of the waste authorisation to ensure that you are dealing with a reputable person. Anyone getting rid of scrap or vehicles should get a docket for any scrap and a certificate of destruction where they send a vehicle to a dismantler. This will ensure that the vehicle is put off the road and de-registered in a proper manner. If you give your waste to an unauthorised collector or facility you are committing an offence under the Waste Management Act 1996 as amended. If convicted you are liable for a fine of up €3,000 or up to 12 months in prison.
John Murphy, a prominent IMVRA member, continues to represent the Irish Dismantlers with EGARA, the European Dismantlers Association. Founded in 1991, EGARA is the European umbrella association for the national associations of automotive recyclers in Europe.
This year's EGARA Spring Meeting was hosted by the Irish IMVRA (Irish Motor Vehicle Recyclers Association). All members' representatives met in Dublin. The morning conference was organised by general secretary Toddy Cuthbert. After a word of welcome from chairman Gerry O'Connor, the first speaker was announced.
Jonathan Cullen from the Environmental Ministry started with the first speech. He explained the current situation and plans in Ireland. Deregistration and responsibilities are divided over several ministries. Enforcement wil be reorganised from 31 counties to 3 regions for more consistancy and special knowledge. The biggest effort now lies in setting up one deregistration system and making it a live, online system. Tackling illegals is also an item as they realize too many vehicles are dismantled outside the reporting scope.
Second speaker was Bernadette Prosser, setting up the producers network and reporting system. This is a system formed by the car manufacturers. It will replace the current system in which 31 counties report separately to the national government. They aim to get 100% vehicles in their system. So all vehicles should go to authorised dismantlerds and illegals should be excluded from getting ELV's or issuing COD's. In Ireland about 100.000 ELV's need to be dismantled each year. They also want to invest in PST (post shredder technology) for separation of non-metallics.
The last speaker was EGARA's chairman Paul Fox with a speech about EGARA as an organisation, our industry's business and our main topics. Still 4.5 million ELV's (end-of-life vehicles) are missing in the EU. ATF's (authorised treatment facilities) should be better protected against illegals. Governments should realize the the loss in their national income via illegals as they pay no taxes or VAT to start with. To have a big advantage over illegals we need to have simple access to producers data about parts. Also prevention and reuse are served with better sales of spare-parts. They help decreasing the vehicles carbon footprint that they are used on. Good registration systems, aided with push and pull factors should direct ELV's to only legal dismantlers. COD's (certificates of destruction) should be issued by dismantlers only. Good spare parts need to be salable at any time without unnecessary efforts or meaningless administrative burden.
In the afternoon the closed EGARA meeting was held. We had a good and efficient meeting. Besides the normal treatment and discharge of the finances, main topics were parts info and waste status.
The second day we made an excursion to Gannon's City Recovery and Recycling Services. Every day they tow all kinds of vehicles to their facility for all kinds of purposes. From recovered accident or stolen vehicles, to confiscated vehicles for owners not paying taxes, to storing vehicles for forensic investigations, all kinds of vehicles are stored until given free for processing. Trucks, as well as normal cars, motorcycles, scooters, quads and even a lawn mower are waiting on site. The company makes about 10,000 recoveries a year and about 4,000 are depolluted and crushed a year. Dismantling of about 5,000 vehicles a year takes place in another facility. Gannon's has 15 recovery trucks and their facility is about 4.5 acres. We thanked Anthony Gannon for showing us around and explaining his business.
People should also be aware of the IMVRA parts website – www.irishparts.ie. Members of the public can go online and look for certified "green parts". It is the only parts website that ensures that your part is being managed by authorised operators in an environmentally sound manner.
If you have any queries please contact Toddy Cuthbert ([email protected]), secretary, IMVRA.
Taken from Irish Trucker & Light Commercials magazine, Vol 18 No 6, August 2015