A reputation cast in stone
19/04/2016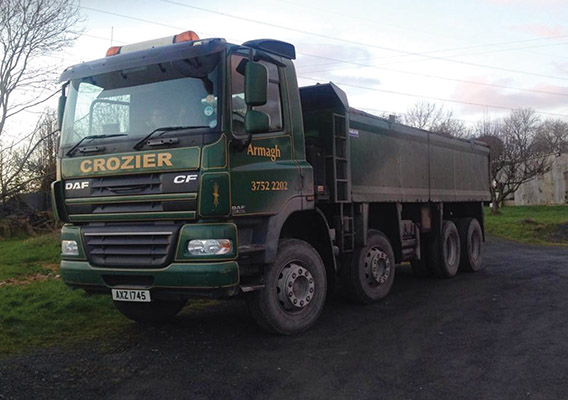 Armagh-based WJ&H Crozier has stood the test of time and, speaking to Irish Trucker, company director Philip Crozier emphasised their commitment to providing the highest level of quality, customer care and service to their clients.
Quarry Owner and Civil Engineering Contractor, WJ&H Crozier's mission "is to produce high quality products at competitive prices while delivering extremely high levels of customer service to complete an all encompassing package".
Established by William, James and Harry Crozier in 1947, they have few peers in the quarrying sector in Northern Ireland. Today, Harry's sons, Philip, Alan and Nigel, and grandsons, Gareth and Stewart, are building on the proud family tradition.
Located at Oulack Road, Armagh, they specialise in road contracts including structures, ground works, services and black-top contracts.
In addition, within the quarry, they produce a wide range of products including clean aggregates for concrete and surface dressing, bitmac and asphalt.
For more than fifty years the Crozier name has been synonymous with the construction and civil engineering sectors in Northern Ireland. In this period of time the company has developed a reputation for quality and dependability which is the envy of many of their competitors.
Government departments, well-known building firms, civil engineering contractors and a host of valued customers in the agricultural and private sectors have all seen the benefit of the 'Crozier treatment'.
A member of the Quarry Products Association and Constructionline, the Crozier family-run concern also boasts a registered Construction Skills Register workforce and currently have 38 employees on their payroll.
They can guarantee that the materials you purchase from them are from a reliable and sustainable source for the simple reason that they all come from their own quarry.
"We pride ourselves on being a hands-on firm," Philip Crozier, whose father Harry is hail and hearty at the age of 91, outlined to Irish Trucker.
"The people who sign off on the cheques are the same people that are out on the ground getting their hands dirty."
Company director Philip, who joined the family business as an 18-year-old back in 1974, continued: "It's a competitive and cut throat business but what separates us from our competitors is the fact that we manufacture the product, we supply it and we lay it. We provide accountability throughout the entire process from start to finish.
"We supply a diverse range of products. Within the quarry our company produces a wide range of aggregate from rock fill to quarry dust and other products which are all compliant with road authority standards."
To facilitate the smooth running of the company's distribution function WJ &H Crozier utilises a fleet of twelve tippers and one articulated tipper.
They can also call upon a number of 7.5 tonne rigids, two chippers and sprayers for surface dressing or tack-coating and a road sweeper that are predominantly used on the civil engineering side of the business.
The company's philosophy is to supply high quality products and a service to match. In fact, the majority of their products have CE marking acreditation in line with government procurement requirements. They above all try to ensure that every customer they deal with is 100% satisfied and if there is any problem, large or small, they have always tried to resolve it to the best of their ability to the customer's satisfaction.
The economic downturn has resulted in turbulent times for practically every business connected with the construction industry but there have been evidence of some green shoots of recovery in recent years.
Crozier's wealth of experience helped them safely navigate the choppy waters of the economic downturn and Philip is optimistic about what the future holds for the company.
"Our collective experience is big benefit in the day-to-day running of our business," Philip acknowledged.
"Business is still tight, there's no doubt about that and that's very much because of over supply and margins are very tight. We've mostly private work on at the moment.
"But we've seen a lot change down through the years and we've established long lasting relationships with loyal customers such as Gibson's and the Lagan Group.
"From our point of view, there are few companies in Ireland who can beat us when it comes to surface dressing. We're one of the best and that's not blowing our own trumpet because we have a long list of clients to prove this."
Taken from Irish Trucker & Light Commercials magazine, Vol 18 No 6, August 2015