No Meen(s) feat
11/04/2016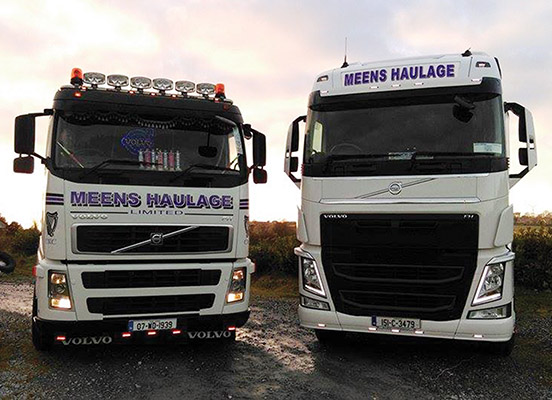 The Dairy industry is about to enter a new era following the abolishing of the milk quota.
This is sure to have a knock on effect for all involved as many farmers look set to increase their herds. In doing so, they will be producing a lot more milk and for hauliers involved in the milk tanker sector, this means that their work quota should increase.
For this month's edition of Irish Tractor & Agri, we speak to a Kieran Fitzpatrick who is the managing director of Meens Haulage who are a leading provider of haulage, distribution and logistics services based in Newmarket, Co Cork.
Established in 2006, Meens Haulage specialises in milk collection from farm to factory. They also have extensive experience in traction work and have a flat trailer available for general haulage.
Kieran revealed that he has many years' experience in the haulage industry along with his father John who is also involved in the business.
"My father had his own truck and I had one also, so in 2006 we teamed up and Meens Haulage was formed. Milk collection is our main area and we have three runs drawing from farms to factories in Charleville, Listowel and Newmarket. We draw for Kerry Gold and it is steady work. We would also draw milk up to Tipperary as well, while we would do some traction work for Denis Downey and some general work too."
Kieran admits that the abolishing of the milk quota could have a positive effect for them. "There could be a knock on effect and I suppose the dairy section will become more evened out. It is guaranteed work and if the work is there then we will have no problem expanding the business to cope with the demand."
Meens Haulage operate a modern fleet of five well maintained artic trucks with fleet tracking on all trucks. Scania and Volvo are the preferred choice of make and a brand new Volvo has joined the fleet this year after it was purchased from McCarthy Commercials. Also added to the fleet has been a new Scania R500 tag axle, which Kieran revealed has been very beneficial to the business.
"It has been a revelation since we brought it in and it helps us do a wide variety of work. We have placed a big investment into the business in recent times and it is essential to have a reliable fleet of trucks. I'm delighted with the new truck, the tag axle allows us to be more manoeuvrable, which is ideal for us in farm yards.
"Our robust Artic trucks offer state of the art tracking. Vehicle tracking systems are an essential tool for managing a commercial fleet. We can tailor our service to meet the customers total distribution needs, direct from the end of your production line or port of entry to final delivery to your customer's premises or destination.
There are four people employed by Meens Haulage and the drivers are fully trained and experienced, which Kieran stressed is essential in such a time constraint environment.
"We have a 24/7 commitment in ensuring that work is completed to the highest standard. We pride ourselves in providing a safe, secure, high quality service."
Meens Haulage often sub out some of their work, especially in busy periods as Kieran stated that the work has to be done no matter what.
"The time constraints in this industry means that breakdowns cannot be tolerated, so we would have a spare truck ready if needed."
Kieran admits that every decision in the haulage industry has to come with the utmost care as the profit margins are as tight as they have ever been.
"We've always tried to keep the overheads down and we've managed to grow every year. As I said, we are fortunate with the customer base that we have. We are there to provide them with the best service possible and once we continue to do that then we should be ok.
"There are many overheads to contend with and tax is the biggest issue at the moment. The fuel rebate has helped a little, but every decision with regards the business has to be taken with the utmost care.
Fortunately, we have managed to keep the overheads down and that had made a huge difference when during the recession. You cannot take any decision lightly, but at the same time, we are looking forward to the future and hopefully further expansion if the work is there.
Taken from Irish Trucker & Light Commercials magazine, Vol 18 No 6, August 2015