Cast in concrete
07/04/2016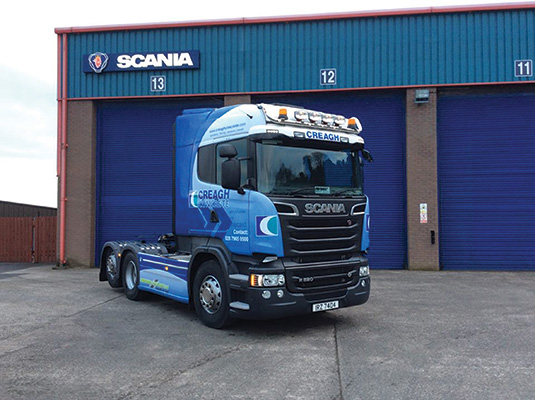 For the past decade, County Antrim based Greenhill Haulage Ltd. has been providing an exceptional concrete transportation service across Ireland and the UK. We dropped into the Ballymoney depot and caught up with founder / proprietor Anthony Doherty to discuss the history, current well-being and future prospects of this excellent operation.
Earlier this year, Anthony Doherty welcomed a new addition to the eye-catching Greenhill Haulage Ltd. fleet, taking delivery in mid-February of a stunning Scania R520 Highline 6x2 MNA tag axle two-pedal opti cruise complete in Creagh Concrete livery from Road Trucks Ltd. in Larne. This resplendent new truck brings the total fleet size up to an impressive ten – one for each year that Greenhill Haulage has been in existence!
Working almost exclusively for the aforementioned Creagh Concrete, Greenhill Haulage Ltd. has certainly come a long way since Anthony decided to take the plunge and set up his own company. Reflecting on the genesis of the business, the affable Antrim man told us:
"I started out on my own ten years ago, having worked in the haulage sector for a good few years prior to that. I had worked as a company driver for Creagh Concrete, but then decided to work for them as an owner-driver. I bought a DAF premix lorry and built it up from there. As Creagh Concrete got busier, so did I."
The two entities have grown hand in hand and today Anthony operates a large fleet, predominantly working for Creagh: "I have ten lorries now – seven Scanias and three Volvos – and 90% of my work is with Creagh Concrete," he confirms.
Through all of this time, Greenhill Haulage has developed a reputation for running one of the finest-looking and best-performing fleets in Northern Ireland. The trucks are updated on a regular basis and all units are maintained in superb condition at all time. At the end of the day, when you have the right tools at your disposal, it makes every job that little bit easier.
Regarding his purchase of the resplendent new Scania R520 a few months ago, Anthony notes: "I just thought it was time to freshen up the fleet. I always strive to keep it fresh and efficient and to make sure that we can give our customers the best service possible. We sub out all the maintenance work etc. and we keep on top of it so that each day one of our lorries takes to the road it is running smoothly."
Established in 1976, Creagh Concrete has grown to become one of the largest and most innovative producers of concrete products for a diverse range of market sectors throughout Ireland and the UK including construction, civil engineering, house building, gardening and agricultural. Creagh designs, manufactures and supplies an extensive range of concrete products, with its head office in Toomebridge and additional bases in Ardboe, Dunloy, Draperstown and Magheraglass as well as Nottingham and Edinburgh.
Greenhill Haulage Ltd. hauls out of the Ardboe, County Tyrone base mostly to Scotland and England. On occasion, they also haul concrete to the Republic of Ireland. "We don't do as much into the South as we used to, although that market is slowly picking up again," Anthony comments.
All in all, the business is going extremely well at present. Anthony, who still drives and is very much the archetypal hands-on proprietor, is pleased to report that he is operating at full capacity and believes further expansion is distinctly possible, especially if the construction sector continues to pick up.
"We are currently employing ten people and all the trucks are out every day, so we are more than happy with that. Going forward, we will continue to provide the best possible service and to drive it on. If this means further expansion, then so be it. We're going to keep it going as best we can anyway.
"The recession struck not long after I started the business up but thankfully we managed to come through unscathed and we now seem to be out the other end of it. We managed to hold onto all of our trucks and employees, which was a huge relief. We had to tighten the belt and it was a tough time but we came through it and I'd like to think we're all the stronger for it now."
Greenhill Haulage draws flats, curtainsiders and tipping trailers (for sand and gravel), using both their own trailers and those of Creagh Concrete. Every day is different but the high quality of the transport solution provided is a constant. "We'd be in different sites over in London, Manchester, Birmingham etc. most days, delivering concrete slabs for construction. All our trucks and trailers are in good working order and we also use the latest tracking technology so that we know where everything is at all times.
"This work is time sensitive and we always make sure that we arrive with the load on time. Most of my employees are here long-term and they all know what they are doing. If we say we will be at a particular site at a particular time, then we will be there.
"The goal for the business going into the future is to stay as we are and keep lads in work. Once we continue to look after our customers, we should be okay. Anything else after that will be a bonus."
Taken from Irish Trucker & Light Commercials magazine, Vol 18 No 6, August 2015