Keeping it in the family in Scotshouse
06/04/2016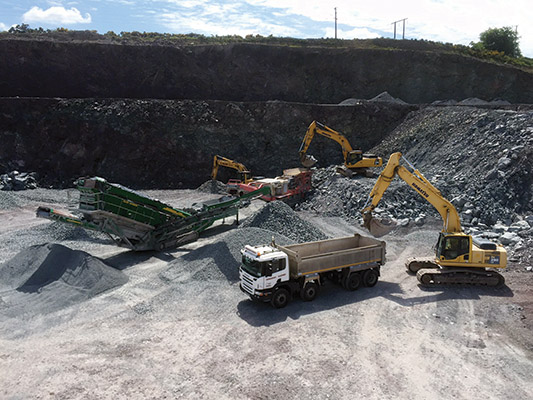 In need of quality high PSV stone? Look no further than Monaghan Quarries and Scotshouse Quarries.
Monaghan Quarries and Scotshouse Quarries are 100% family owned and operated companies with a wealth of experience in the quarry industry. They have established a reputation as a reliable supplier of superior quarry products.
The Connolly family name is held in high regard and their companies are respected for the high quality of their products and services.
Father Paddy set the wheels in motion and his sons Darragh and Paraic manage Monaghan Quarries and Scotshouse Quarries respectively. Another son, Shane, looks after Ballytrain Plant Sales.
Established in 1978, Ballytrain Plant Sales are market leaders when it comes to importing and exporting crushers, screeners, excavators, wheel loaders, telehandlers and much more globally on a daily basis.
"We have another brother Ryan who drives lorries and all of us grew up in the business," Darragh Connolly pointed out.
"Our father Paddy has been involved in quarrying for a long time and Scotshouse was set up in April 2006 followed by Monaghan Quarries in September 2012. A total of 15 people are employed between the two quarries and another five in Ballytrain Plant Sales."
The Connolly's vision is to continue to retain and further develop their customer base and to be the supplier of choice in their areas of operation.
Their quarries produce drainage stone, road making material, decorative chip and sand and fill products and they count Monaghan, Cavan, Leitrim and Westmeath County Councils amongst their valued clients.
With a modern and regularly maintained fleet of five eight wheelers, three artic lorries, four loading trucks and five diggers, they also supply high PSV (Polished Stone Value) stone for the road construction industry.
"We hope to add more County Councils to that list in the future," added Darragh, "while we have also been very busy supplying materials for farmers as well as the construction of chicken houses, schools and dwelling houses in the surrounding area. We do all the council work in Monaghan and have supplied Monaghan County Council ever since we started up Scotshouse.
He continued: "We would be well known for our quality high PSV chips. We started chipping in 2009 and not every quarry has them. Those that do wouldn't have them in as good a shape as ours."
There is a renewed confidence in the construction sector in Ireland following the barren years of the economic downturn.
The volume of output in Ireland's construction sector was 11.2 percent higher in the final quarter of 2014 when compared with the same period 12 months earlier.
New figures from the Central Statistics Office (CSO) also show that the value of production in the period was 6.6 percent higher than in 2013.
The upswing in the construction sectors is good news for the Connolly family and their two quarries.
"Business has been good," Darragh revealed, "as I said we've been busy which chicken houses and road jobs while we recently completed a college in Monaghan and at present we are supplying materials to extend Silver Hill Duck farm in Emyvale and Greenfield Foods in Smithborough. The upturn in the building market is, of course, good news. We've all been through tough times and, hopefully, we've turned the corner now."
Not known for resting on their laurels, the Connolly family have ambitious plans to expand their business interests.
"We're currently in the process of applying for planning permission for a tar plant in Scotshouse and we hope to have that up and running by next year hopefully," Darragh explained. "By extending the business this will hopefully create more employment and positivity in the local area.
"Last year we purchased a new McCloskey screener and crusher with the improvement in the economy and by people supporting local helped us fulfil this dream.
"We would like to take this opportunity to thank our customers and suppliers for all the valued support over the years hopefully there will be many more to come."
So what separates the Connolly family-run quarries from their competitors?
"We pride ourselves on our quality products while our experience is a big asset. We've been quarrying all our lives and our customers know they can trust us to meet their requirements."
Give Darragh or Paraic a call on the numbers below to find out more. They can guarantee that the materials you purchase from them are from a reliable and sustainable source for the simple reason that they all come from their own quarries.
Taken from Irish Trucker & Light Commercials magazine, Vol 18 No 6, August 2015