Volvo Trucks fuel of choice is still diesel
01/04/2016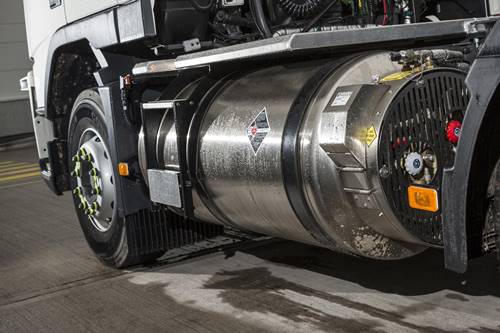 A seven-year research programme by Volvo Trucks into alternative fuels has concluded that the power source with the most positive impact on the environment is still diesel.

The announcement comes following the revelation that Volvo's engineers had found a natural source of carbonated - or 'sparkling' - diesel in the far north of Sweden.
Speaking from the Alternative Fuel Programme Headquarters on Gasgata, Gothenburg, spokesman Roni Bårkersson explained how Volvo Trucks carried out an extensive testing programme on the newly-discovered alternative fuel: "We were able to access the sparkling diesel under the terms of our EU urea extraction licence."
He adds, "We initially ran some trucks on cold weather testing with reindeer herders in Finnish Lapland for five years. However, we found that it was unsuitable as a truck fuel because its Cold Filter Plugging Point (CFPP) when under scrupulous lab tests in the Volvo canteen, was so high that, at room temperature, each litre of sparkling diesel produced enough wax to make four candles."
In addition, the Sami herders found that - in terms of economy - the finished product was too dear to be viable.
"Fortunately," reported Bårkersson, "Our engineers also discovered a significant deposit of 'still' diesel in rocks lying alongside those holding the 'sparkling' variety. Trials of the 'still' diesel produced some sparkling results and so, after due consultation with our alternative fuel and biogas partners, Trump & D'Nye, we have decided that traditional diesel is still our first fuel of choice."