Twenty years of McGurk Haulage
30/03/2016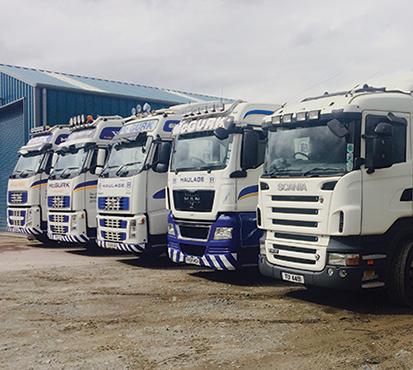 McGurk Haulage Ltd has been providing an unrivalled service to its customers since 1995. Specialising in the transport of bulk cement, the Co. Tyrone-based operation prides itself in being able to deliver on time, every time.
As this year marks the 20th anniversary of McGurk Haulage Ltd, now seems a good time to look at the history and success of the company. Hailing from a farming background, Stephen McGurk started the business from humble beginnings.
"Jacqueline and I had just got married and money was scarce," he remembers.
"However, I got enough money together to go over to Wales and buy my first truck, which was a Volvo FL10. My first contract was with Blue Circle, which is now Lafarge Ireland, here in Cookstown. I continued to work for them until the recession hit, but I'm back working for them again, albeit not on the same scale."
Now running five trucks and the same number of bulk cement tankers, Stephen's main contract these days is with Acheson & Glover (A&G), whose Irish headquarters is in Fivemiletown, Co. Tyrone. Established in 1960 by Cookstown man Harry Acheson, A&G designs and manufactures a wide range of products and solutions in concrete for both the residential and the commercial sectors, and is recognised as one of the most trusted concrete producers in Ireland and the UK.
A&G started life as a family-run business and remains so today with Harry's son Raymond and grandson Stephen now involved. The company is committed to the high standards that have been set throughout its history – standards of 'best in industry' for customer service, quality and innovation. Because A&G owns its quarries, it is able to carefully control the quality of the aggregates that go into making its products.
Stephen began working for A&G 15 years ago and is responsible for hauling cement powder from Lagan Cement in Kinnegad, Co. Westmeath to their five plants in Fivemiletown, Ballygawley (both Co. Tyrone), Magherafelt, Co, Derry, Toome, Co. Antrim and Carryduff, Co. Down.
"Acheson & Glover are the largest manufacturers of concrete products in Ireland and we are very proud to work for them," Stephen says.
"I got to know Harry Acheson, when I working for Blue Circle. I was constantly asking him if he would put some work my way and he eventually relented! I've had a great working relationship with his company ever since and I hope we can continue working together for many more years to come."
As well as Acheson & Glover, Stephen's other customers include McGarritty Bros Ltd in Carrickmore, Lagan Cement, Quinn Cement, Kilwaughter Chemical Company in Larne and Lafarge Tarmac. He employs four drivers, namely his brother Aidan, Paul McGaughey, Martin Mullen and Sean Campbell. Stephen's children Émer (18) and Matthew (15) also help out in both the office and the yard.
The McGurk fleet currently comprises a MAN TGA 480 XL, a Scania R500, two Volvo FH 460s and a Volvo FH 480. The tractor units, with their distinctive blue and white livery, are always immaculately turned out and well maintained. All maintenance and repairs are carried out at the haulier's purpose-built yard in Cookstown.
Stephen upgrades his trucks on a regular basis, with a new MAN XXL 480 just ordered, which will restore his fleet to the size it was before the economic downturn.
"We were running six lorries, including a handful of tippers, before the recession," he explains.
"Like most companies connected to the construction industry, we had to downsize to stay in business, but we're slowly but surely building it back up again. We're grateful for the support and loyalty our customers have shown to us through both the good and bad times."
Stephen is also appreciative of the role his drivers have played in making his transport service one of the best around.
"The lads I have with me are very good at what they do. They have built up a good rapport with the customers and can always be relied upon to get the job done," he continues.
McGurk Haulage Ltd provides a reliable, flexible and cost-effective service that puts the customer first at all times. No job is too big or too small and Stephen will be more than happy to discuss your requirements and provide an expert transport solution.
Here's to the next 20 years of Co. Tyrone's number one bulk cement transport company!
McGurk Haulage Ltd
Dungate, Dunnamore Road, Cookstown, Co. Tyrone BT80 9NX
Telephone: 077 408 77067
Email: [email protected]
Taken from Irish Trucker & Light Commercials magazine, Vol 18 No 5, July 2015