A2B Recovery will get you back on the road quickly
24/03/2016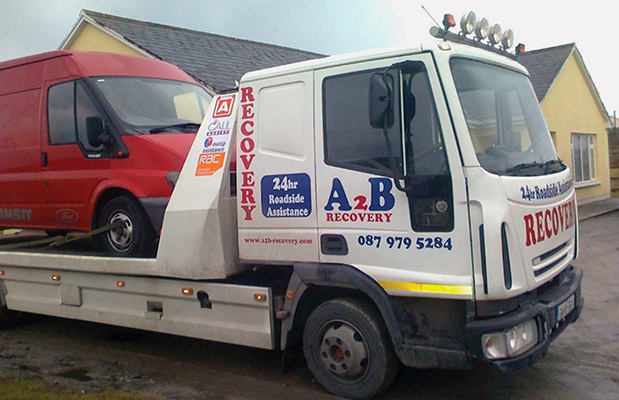 When it comes to vehicle breakdown recovery, vehicle towing and breakdown assistance nationwide, be sure to give A2B Recovery a call.
A2B Recovery was established in Ardfert, Co. Kerry in 2006 by local man Mike Dineen. Mike, who is married to Anne-Marie, set up the business after returning from the US armed with a wealth of experience in vehicle recovery. They have two daughters, Kate and Niamh. Indeed, Niamh can often be seen travelling around the country with her dad.
Boasting a wealth of experience, the latest state-of-the-art equipment and recognised by many of the leading insurance companies, A2B Recovery provides unbeatable fast, efficient, friendly and cost-effective services to stranded motorists. Mike is trained in all the latest recovery techniques and is committed to getting his customers back on the road as quickly as possible.
A2B Recovery offers a comprehensive breakdown recovery service for cars, motorcycles, plant and goods vehicles up to 4.5 tonnes to private motorists and commercial businesses. The company also provides a roadside recovery service covering all vehicles from private cars and motorcycles to HGVs.
A2B is available 24 hours a day, seven days a week, all year round. This recovery specialist with the catchy name goes the extra mile to make sure its customers' breakdown and recovery requirements are carried out as promptly and safely as possible. A nationwide collection and transportation service for private motorists, dealerships, garages and businesses is also offered.
The company's recovery and roadside assistance includes the following: 24-hour recovery for all vehicles up to 4.5 tonnes; secure storage facilities; wrong fuel drain and replace service; out of fuel service; onward travel arranged; car rental available so you can complete your journey; door-to-door recovery; multi-car transporter available; nationwide car transportation; motor repatriation in conjunction with your insurer.
"Whether you run out of fuel, put the wrong fuel in, have a flat tyre with no spare, have had an accident, your car won't start or you simply need to transfer your vehicle from one location to another, we are there for you," Mike explains.
"No job is too big or too small. Because it's such a competitive business, you can't afford to be choosy and that's why we recover any size of motorcycle or vehicle. We have all the necessary equipment to handle most types of vehicles. This gives us a major advantage over many of our competitors."
Given Ardfert's location in the tourist hotbed of North Kerry and only a few miles from the Atlantic coast, it's not surprising to hear that many of Mike's customers are not from the area. While one would assume it's an unusual occurrence, he is regularly called to rescue vehicles which get stuck on the beach in nearby Ballyheigue and Ballybunion.
"You'd be amazed how often it happens. People, who are mainly tourists, drive onto the beach and then find that they can't drive off it. Sometimes we have to wait until the tide goes out before we can recover the vehicle," he says.
A2B Recovery has a wealth of experience in facilitating dealership transfer all over Ireland. It can transport most types of vehicles from garage to garage or to vehicle dismantlers, and can deliver a customer's new car from the dealership to their home.
Mike can also collect end-of-lease vehicles for the lease company and transfer as many as five vehicles at once depending on their size. He also has the wherewithal to transport end-of-life vehicles to registered dismantlers throughout the country for safe and environmentally-friendly scrappage.
In addition, A2B Recovery can save farmers valuable time and money by collecting their disabled tractors and transport them to their yard or garage for repair. A2B can carry out roadside repairs to any kind of vehicle. With 24-hour access to tyres, batteries, hoses, other parts and fuel, Mike's aim at all times is to have most common mechanical failures rectified as quickly as possible.
"We deal with many mechanical problems onsite on all types of LGV, HGV, agricultural and plant machinery with the assistance of other recovery companies," he points out.
Mike runs a fleet of four recovery trucks including a crewcab vehicle that carries six passengers and a vehicle that can cater for up to three cars.
The affable managing director often works in conjunction with other vehicle recovery operators in the Kerry area, including Bartlett Recovery in Castleisland, O'Sullivan Motor Rescue in Killarney, Dineen's Garage in Dingle and Jack McCarthy in Cachirciveen.
A2B also works closely with MIS Claims who are the largest claims management company in Ireland, providing both insurers and motor intermediaries with an outsourced solution to their claim handling requirements.
Mike and his recovery staff are trained by the IFRS (International Federation of Recovery Specialists), whose headquarters are located in Kilmacanogue, Co. Wicklow. Founded over 25 years ago, IFRS was first brought to Ireland in 2003 by Derek Beahan, who teamed up with Eamon Kelly and started training recovery personnel. Five years later, Derek and Eamon took over the IFRS completely and began holding training courses at Unit 1, Holdfeld Park in Kilmacanogue.
As A2B Recovery approaches its 10th anniversary, Mike can take much satisfaction from the success of his business and is looking forward to the next 10 years with plenty of optimism.
A2B Recovery
Ballymacquinn,
Ardfert,
Tralee,
Co. Kerry.

Telephone: 087 979 5284
Website: www.a2b-recovery.com
Taken from Irish Trucker & Light Commercials magazine, Vol 18 No 5, July 2015