Cream of the crop
23/03/2016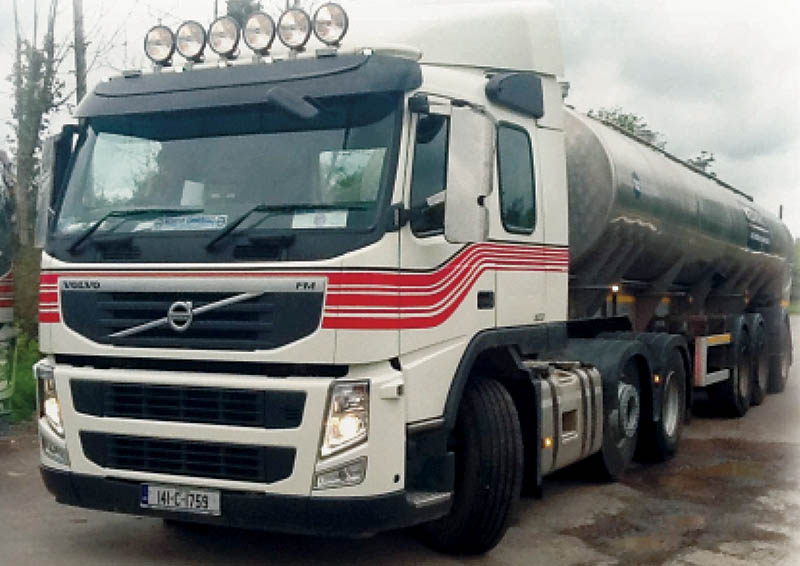 The farming community and haulage industry have closely knit ties as the transport of agricultural materials is generally carried out by trucks.

This is certainly in regards to dairy farmers who rely on haulier to bring their milk to the creamery. Long gone are the days of a few milk cans being thrown up on an ass and cart before heading off to the local creamery.
These days, the dairy sector is dominated by a few main players when it comes to the ownership of Co-Ops and down south the Kerry Group is the dominant force.
The company subs out its milk runs to haulage operators around the province and for this month's edition of Irish Trucker, we profile one such haulier.
Noel Howard is based in Charleville, Co Cork and he has been involved in the haulage industry since the late seventies as he built up a wealth of experience over the years.
Since 1988, Noel has been working for himself and he now runs a fleet of six trucks, three of which are focused solely on milk runs, while he also transports fertiliser for the Kerry Group.
The majority of Noel's work is for the multi-national organisation.
"I started out on my own about 27 years ago and at that time, I was doing a milk run for Golden Vale. That changed when the Kerry Group took over, but we have remained with them ever since," said Noel.
"I would have two trucks going 24hrs a day on the milk runs and we draw the milk to Co-Ops in Charleville, Listowel and Newmarket, while we also bring loads up to Glanbia in Tipperary.
"During the winter months, when things are a bit quieter, we would draw cream for Kerry Agri Farm from Dale Farms, so we are busy enough all year round."
Time is of the essence in milk production and Noel believes that having a modern fleet of trucks helps them to adhere to the constraints of the business.
"Maintaining a good fleet of trucks is essential to us and that is why I would upgrade the fleet on a regular basis. Two new trucks arrived last year and another one this year. I prefer Volvo trucks, so do all my business with McCarthy Commercials in Watergrasshill, Co Cork and Limerick.
"We would have a good working relationship with them and their after-sales are second to none. I operate on contract hire and I feel that this way is most beneficial to me and the company."
Noel employs eight people in the business and he admitted to us that none of the success he has had over the years would have been feasible without them.
"Some of the drivers are with me a lot of years now and they know the farmers and the routes inside out at this stage. This is a very demanding type of work, but in fairness, they just get on with it.
"My wife Margaret looks after the administration side of the business and with all the paperwork that's involved these days, it is not an easy task to keep on top of things, but she does very well."
Of course, for any haulier, it is essential to keep those wheels turning as there are many overheads to contend with on a weekly basis.
"Tax, diesel and wages are the three biggest overheads in the industry. A £10 surcharge has been put in place for any southern registered haulier crossing from the Republic into Northern Ireland."
One cost saver for Noel and his team is that they just have to worry about their trucks and not the milk tankers that are owned by the Kerry Group.
"The tankers are serviced regularly and brought in for regular checks, while they are upgraded when necessary. This is a big saving for us as we just have to worry about the trucks and the few trailers that we have."
Noel is pleased with the workload that he has on at the moment and is keen to maintain the level of service that his customers have become used too.
"Ah we would be happy enough with the way things are alright. I've good customers and as long as they are happy then we must be doing something right. We are working away and that's the main thing, sure we can't ask for anymore," he concluded.

Noel Howard Transport
Charleville,
Co Cork.

t. 087 256 8979
e. [email protected]
Taken from Irish Trucker & Light Commercials magazine, Vol 18 No 5, July 2015