Bringing home the bacon since 1988
21/03/2016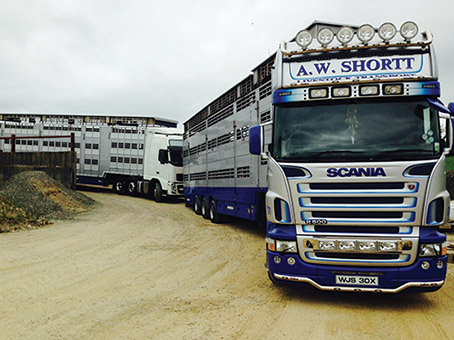 Specialising in pig haulage, AW Shortt Livestock Transport is run by Alastair Shortt and his wife Valerie. The business has been providing a top-class service to pig farmers in the Tyrone region since 1988 when Alastair bought his first truck.
AW Shortt Livestock Transport has grown over the years and now transports between 3,000 and 4,000 pigs every week. Most of the pigs Alastair and his team of drivers collect from piggeries are destined for the Dunbia processing plant in Cullybackey, Ballymena. They also bring pigs to the Karro Food Group processing facility in Cookstown as well as to other farms.
"About 80 per cent of our work involves drawing pigs to Dunbia in Cullybackey," Alastair explains.
"We also deliver pigs to Karro Foods and move about 1,000 weaners per week from farm to farm. I started out drawing weaners for Wilson's Feeds in Belfast, where my father worked, and I'm still at it all these years later."
Better known as a beef processor, Dunbia processes over 800,000 pigs annually in the UK and Ireland. As well as supplying pork products for retail supermarkets, Dunbia produces pork raw material for food manufacturers who in turn produce high quality added value products. The company holds the prestigious Freedom Food RSPCA Accreditation at its Ballymena facility and maintains the same standards throughout all of its pork sites.
The Karro Food Group, meanwhile, is home to the famous Cookstown brand. It is one of the UK's leading pork processors, supplying fresh pork, cure and cooked meats such as bacon and ham to retail, food service and manufacturing customers across Britain and Ireland.
It goes without saying that Alastair and his drivers Richard Alexander, Richard Shortt and Jeffrey Watt enjoy an excellent working relationship with both the pig farmers they work for and the processors. AW Shortt Livestock Transport operates from just outside the village of Mountjoy, which is situated two miles from Omagh on the Strabane Road.
"We're located in a big pig producing area. There are a number of pig farms in and around Omagh, Castlederg and Cookstown, and they are all on our doorstep," Alastair says.
"We run two loads during the day and two during the night. Richard Alexander and I look after the daytime runs, while Richard Shortt, who's my cousin, and Jeffrey, do the night runs to Ballymena. We used to bring pigs to Cork and England, but we've got so busy with work in our own area in the last number of years that we've had to drop those runs."
Alastair also transported cattle and sheep once upon a time, but this work has also had to take a backseat. Alastair's father, Walter was a well-known pedigree breeder, and he transported these cattle to Perth and Stirling in Scotland for him.
Alastair's first truck was a TK Bedford, which he replaced with another TK Bedford. He then bought a Bedford TL before upgrading to a Volvo F6. Nowadays, he operates a Volvo FH12 Globetrotter, which he purchased from Nigel Rafferty in Dungannon, and a Scania R500, which was bought in England. He also runs two state-of-the-art Pezzaiolli trailers, one of which was bought new while the other was purchased from Malcolm Workman in Co. Monaghan.
The three-deck trailers are both 45 feet in length and can carry up to 200 fully-grown pigs and 500 weaners. Both trailers are farm quality assured.
Both trucks, with their eye-catching silver and blue livery, are always immaculately turned out.
"We are extremely busy, so the trucks and trailers get a lot of use. Replicas of our trucks are available to buy from Replica Models in Fintona. After seeing our trucks out and about, they asked us for permission to produce replicas and we were happy to give them the green light. There were 150 replica models made and I think there are only a few remaining..."
AW Shortt Livestock Transport is proud to offer a professional livestock transport service which comes from nearly 30 years' experience in the business. Every animal is transported with great care, guaranteeing a safe and comfortable journey. A strong emphasis on animal welfare ensures that pigs are stress-free during the journey to slaughter. Alastair and his drivers understand the needs of the livestock they are transporting. The trailers are cleaned thoroughly after every trip.
In conclusion, Alastair says: "We would like to take this opportunity to thank all of our customers for their support over the years. We are committed to providing the best possible service there is and look forward to working with our customers for many more years to come."
A.W. Shortt Livestock Transport
35 Connaghly Road,
Mountjoy,
Omagh,
BT78 5NN.
Telephone: 077 11179566
Email: [email protected]
Taken from Irish Trucker & Light Commercials magazine, Vol 18 No 5, July 2015