Passenger Transport Company of the Year - three years running!
18/03/2016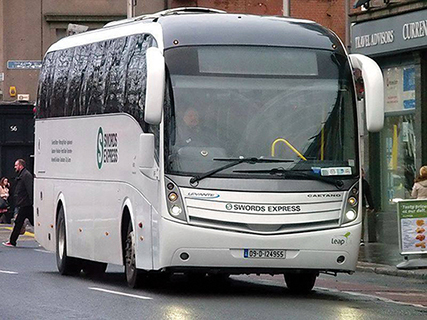 When Brazil won the World Cup for the third time way back in 1970 they got to keep the Jules Rimet trophy as a memento.
Perhaps the organisers of the The Irish Logistics and Transport Awards 2015 should consider a similar gesture in recognition of Swords Express' achievement in being honoured with the "Passenger Transport Company of the Year" award for the third year in-a-row.
The ILTA's were devised five years ago and aim to recognise and celebrate excellence in logistics and transport. In addition, the awards scheme is designed to encourage teams and individuals to constantly raise the bar, to innovate and maintain their commitment to the industry in their day-to-day endeavours.
Swords Express obviously tick all those boxes and they retained their vice-like grip on their category at the awards ceremony which was held at the DoubleTree by Hilton Dublin onThursday, March 19th last.
So what are the secrets of their success? Irish Trucker put that question to Managing Director Paddy Kavanagh and his director daughter Sinead: "It's testament to the excellent service we provide and the feedback we have received from our customers also reflects the growth of the service in the past 12 months," Paddy replied.
"Needless to say we're delighted and to win it three years in a row is a fantastic achievement. It also reflects well on our staff. It's a team effort here at Swords Express and fair dues to them. Congratulations must go to them also.
"Our growth speaks for itself. We have given our customers more choice by offering a different type of transport option in Swords and we have a high level of customer satisfaction which we were able to show the judges. To win the award for the third year running is a great accomplishment."
Swords Express was established in 2007 and is owned and operated by Eirebus which is Dublin's leading coach operator with 44 years' experience providing top quality transport solutions to clients throughout Ireland, the UK and internationally.
Eirebus owns and operates a fleet of 45 deluxe coaches ranging in size from 16-53 seats and all vehicles are rigorously maintained at its state of the art headquarters located close to Dublin Airport.
They offer private coach hire, destination management and scheduled services and are members of the Irish Tour Operators Association (ITOA), the Coach Tourism Transport Council (CTTC) and Dublin Convention Bureau (DCB). They are also an International Quality ISO 9001:2000 company.
Swords Express, meanwhile, is currently operating more than 100 departures every weekday between Swords and Dublin City Centre and 37 at weekends.
As the Fingal region continues to grow, they successfully provide well managed and efficient transport options to Swords commuters and Swords Express is committed to meeting that increased demand through the delivery of a keenly priced, rapid coach link to Dublin City Centre.
The Kavanagh family-run concern operates a fleet of fully seated, air-conditioned deluxe coaches, all of which are Wi-Fi enabled.
Their mixed fleet of twenty-two fully automatic transmission and air ride suspension fitted coaches is comprised of wheelchair accessible Scania Caetano Levantes, Spanish assembled Scania K114 Irizar Centurys, and Irizar PB type coach bodies built on the Scania K340 EB chassis.
All coaches are fitted with recliner seating, climate control, audio and video media players, on-board Wi-Fi as standard, and safety belts fitted to every seat. Overhead soft lighting, reading lamps, directional air conditioning nozzles, baggage shelves and skylights are standard throughout the Swords Express fleet.
In addition, all coaches have been retrofitted with Bluetree fuel usage monitoring and driver profiling to ensure a minimum fuel burn and a reduced carbon footprint. All coaches are fitted with real time tracking for passenger convenience. Amber LED destination display units are fitted on front of coaches showing route number and final destination.
Providing employment to a total of 35, it should come as no surprise to learn than business has been brisk of late for Swords Express but there are challenges they have to meet on a day-to-day basis.
"There are always challenges," Sinead pointed out. "Ensuring that we remain tuned in to evolving customer demand and adjusting our timetable in line with this will always be crucial.
"Also the process of getting approval to introduce changes to our timetables can be quite a time consuming process.
"We would like to do more in the greater Dublin area but find it difficult to get new licenses to operate other routes. Some people out there view the protection of the subsidised sector as being very important. We think it should be a mix of both subsidised and unsubsidised operators and that there should be greater support for the commercial operators."
Paddy concluded: "We set our standards high and, as a company that wants to continue to grow we need to be able to meet our passengers' expectations."

Swords Express
Corduff Rd Blanchardstown Dublin 15
Phone: +353 1 529 2277
Email: [email protected]
Website: www.swordsexpress.com
Taken from Irish Trucker & Light Commercials magazine, Vol 18 No 5, July 2015