Arkil Ltds ship comes in - to Dingle Harbour
15/03/2016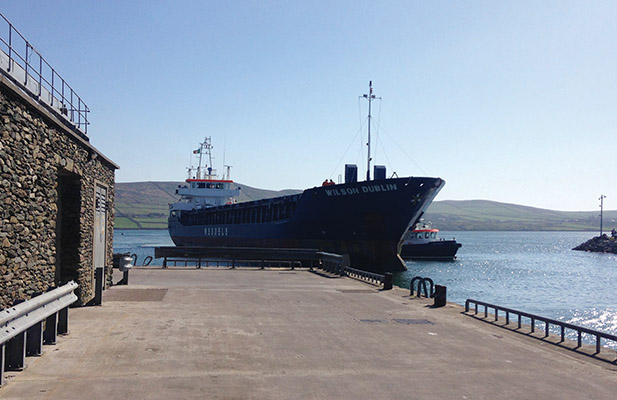 The TV cameras were in Dingle Harbour recently to witness the biggest ship ever to dock in the pier. The Wilson Dublin cargo vessel was there to collect 3,500 tonnes of 70+PSV aggregate from Arkil Ltd's
Lispole quarry, which was destined for the UK for use in road construction.
Amid great excitement, the ship was pulled by tugs into Dingle at high tide on Sunday, April 19. At over 290 feet in length and 2,452 tonnes in weight, it was the largest cargo vessel ever to come alongside the pier at the West Kerry harbour. The ship was bound for the Port of London at Northfleet on the Thames estuary.
It was the first of what is expected to be several shipments from Dingle after Arkil Ltd secured a contract with Aggregate Industries Ltd which will see in the region of 50,000 tonnes of high PSV (Polished Stone Value) chips shipped to the UK over the next year. The contract is set to create five jobs locally.
"There was a great buzz in Dingle on the Sunday evening when the ship docked and on the Monday when it set sail for Northfleet in London," explains Arkil's Area Manager Damian Duffy, who organised the historic shipment.
"An earlier shipment had gone out from Foynes on St. Patrick's Day, but Dingle was our first preference because it's only seven miles from our quarry in Lispole. Because it's primarily a fishing port, we had to receive clearance from the Department of Agriculture Fisheries and Marine before we could bring in the cargo ship.
"It caused a huge stir because nobody had ever seen a ship of that size dock in Dingle Harbour before."
The people of Dingle will see a lot more similar sized cargo vessels in the coming months as Arkil Ltd is committed to supplying 50,000 tonnes of high PSV chips to Aggregate Industries UK Ltd, which is one of the UK's biggest asphalt producers. The company also supplies aggregates, ready-mix concrete and precast concrete products.
"We were delighted to win this contract which we hope to expand with our other HiPSV products in the coming months, especially after the difficulties our industry has experienced over the last number of years. We've come through a few hard years and something like this gives everyone a boost," continues Damian.
"The high PSV chips, which are in short supply in Ireland and the UK, will be used for road surfacing where the road safety specification calls for greater skid resistance. This type of stone enables vehicles to better grip the road even after the road has been heavily trafficked over a long number of years, it will still retain the highest SRV of any other stone type."
Arkil Ltd's high PSV deposit has allowed it to develop a high friction material for anti-skid applications. The product has been developed and tested under the guidelines for High Friction Surfacing (HFS) and is now in full production at its high PSV stone quarry in Lispole. The PSV of AHFSA stone is 78+, which makes it comparable to the market standard Calcined Bauxite which is also 78+. Arkil Ltd has honed in on this rare stone quality and is marketing this new product as an alternative to Calcined Bauxite.
The advantages of Arkil HFS include: Carbon footprint – since it comes from a natural resource, the production energy costs are much lower and therefore the market price index is not as volatile to energy markets; Price competitiveness – due to lower production costs since it is produced from a natural rock source.
Arkil Ltd is strategically located to supply UK, European and US markets, and also has a much lower carbon footprint for production and transport. Arkil HFS is typically used on approaches to roundabouts, junctions, traffic lights, pedestrian crossings and cycle lanes.
Arkil Ltd has been operating in Ireland since 1988, producing many construction materials, with particular emphasis on road construction materials. The company has three quarries in Rathangan, Co. Kildare, Crossbarry, Co. Cork and Lispole, Co. Kerry where all types of asphalts, macadam's, stone aggregates, natural stone, building stone, railway ballast, clause 804, high PSV chips (PSV 60, PSV 65 and PSV 70), high friction surfacing, anti-skid surfacing, asphalt sand, building sand, concrete and concrete blocks (depending on the location) are produced in accordance with the most up-to-date specifications and standards.
In addition, the company operates civil engineering contract divisions for road construction and re-alignment projects along with road repairs and overlays, earthworks, groundworks and drainage. Arkil's customers include local authorities, NRA (National Roads Authority), other State bodies, main contractors and private companies and individuals.
Employing over 50 staff directly and a further 50 on a subcontract basis, Arkil Ltd is an Irish subsidiary of Arkil A/S, Haderslev, Denmark, an international company from whom it receives huge support and back-up. Arkil Ltd was previously known as Ove Arkil and Tarmak Co. Ltd. Arkil opened its first Irish quarry in Rathangan in 1988, followed by Lispole in 1997 and by Crossbarry in the early 2000s.
Headed by managing director Seamus Mannion, the company's main objectives are to produce and supply quality materials to the highest standards with safety, quality, protection of the environment and the wellbeing of its staff, neighbours and the public foremost at all times.
Arkil Ltd KILDARE (Head Office) Drennenstown, Rathangan, Co. Kildare.
Telephone / Fax: 045 524520 / 045 524618 Email: [email protected]
Arkil Ltd KERRY, Graigue, Lispole, Co. Kerry.
Telephone / Fax: 066 9157300 / 066 9157444 Email: [email protected]
Arkil Ltd CORK Ballyhandle Quarry, Crossbarry, Co. Cork.
Telephone / Fax: 021 4775988 / 021 4775985 Email: [email protected] Website: www.arkil.ie
Taken from Irish Trucker & Light Commercials magazine, Vol 18 No 5, July 2015