Smith Demolition: For the best service possible
11/03/2016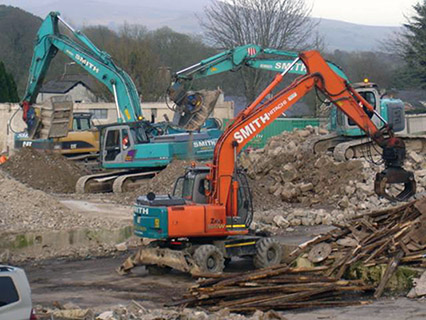 When the Celtic Tiger's roar became more of a whimper, the construction trade was hardest hit.
For those involved in the building trade, the good times came to a shuddering halt and the country was sent into a great deal of panic.
However, certain areas of the construction industry avoided the sudden collapse as demolition companies were not involved in house building, which at the time was the main focus of attention.
One of Ireland's leading demolition firms is Limerick based Smith Demolition who provide a wide range of services to a large customer base.
Established in 2001 by Noel Smith and Tom Fleming, the company offers such services as demolition, civil works, asbestos removal, property stabilization/restoration and property development.
Their expert team assesses the safest and most economical way to achieve the customers' goals with complete project planning, contract surveys and professional contract management and engineers. While based in Limerick they work with local authorities, government departments, multi-nationals contractors and private clients nationwide and abroad. From a stand-alone wall to a whole business/industrial complex, no job is too big, too small or too far away.
To be able to diversify into so many key areas is one of the reasons why Smith Demolition has been successful over the past 14 years, but providing and efficient and prompt service to their customers is equally if not more important.
Tom revealed to Irish Trucker that it was not easy to get where they are today and stressed that it took a lot of hard work to do so.
"Noel and I both had a background in demolition work and we brought our skillsets together to start the business. Even though, we had a good few contacts in the trade, it was not easy to get the business up and running," said Tom.
"We had to earn people's trust as we were only a new company and they weren't sure what sort of service that they would be getting.
"We specialize in providing a premier service from site demolition and clearance to foundations, drainage and site development. We also offer plant hire on our range of machinery to suit any requirement. Our demolition works range from small buildings and one off houses to major industrial/commercial buildings and apartment blocks."
This was at the height of the Celtic Tiger and Tom states that since the end of the boom, they have found it easier to run the business.
"During the Celtic Tiger years, it was just crazy, money was no object for companies, but now we find it easier to run the business and keep the overheads down.
"We are equally as busy now as we were at the height of the boom as we were not involved in the housing trade where all the attention was. We're pleased with our work load and through the services that we provide, we have an edge over our competitors."
What Tom is referring too is the fact that they can cater for all areas of demolition and site clearance. Most demolition firms concentrate on certain areas and the customer will have to get another contractor in to do other jobs, but that is not the case with Smith Demolition.
When it comes to demolition and site clearance, they offer the full package and customers can rest assured that the job will be done to the highest standard.
"We did look at sub-contracting the likes of asbestos removal, but we decided it would be more efficient if we did it ourselves and I would have a background in asbestos removal, so we trained up the necessary personal to do this sort of work."
Smith Demolition have been involved in projects all over the country, while they have been heavily involved in the Limerick City regeneration programme, working alongside the local authority.
To carry out all their work, Smith's have an extensive range of plant and machinery, all of which can be brought to a site for use.
All the necessary paperwork has been obtained by the company as they have waste and hazardous waste permits as well as all other legislation including needed for them to operate.
"To ensure our services are safe, reliable and of the highest quality, we are certified OHAS 18001, ISO 14001 and ISO 9001 from the International Organisation of Standardisation. We also have highly trained and medically tested staff and permits for disposal of hazardous materials. We at Smith Demolition comply with all Health and Safety Standards giving us an exemplary safety record.
"We are specialists in what we do. We still do some civil works, but our main area is demolition and site clearance. We crush all rubble on site and we have our own landfill, so this is another thing that the customer doesn't have to worry about."
Smith Demolition comprises a large workforce with a pool of engineers, technicians and contract supervisors available for all and any type of contract. Decades of experience and highly trained staff allows Smith Demolition to continually surpass government and industry requirements for safety, making us a national leader in the field of demolition. Our offices are based in Newcastle West in County Limerick but we have completed work throughout Ireland and the United Kingdom.
"We would have staff with us since the start and they are all highly trained. Without them, none of this would have been achieved and we look forward to working on more projects with them over the next few years."

Smith Demolition
Newcastle West,
Killoughteen,
Co. Limerick

+353 (0) 69 61900
[email protected]
Taken from Irish Trucker & Light Commercials magazine, Vol 18 No 5, July 2015