Adare Machinery secures Doosan-Bobcat agency
10/03/2016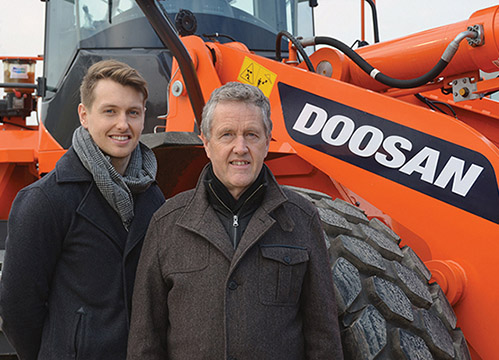 In January, 2015, Limerick-based Adare Machinery was appointed by Doosan Construction Equipment as a new authorised dealer for Doosan Heavy and Bobcat products in Ireland.
We dropped into the award-winning County Limerick based machinery dealership and met up with sales manager William Cuddy to discuss this exciting new partnership as well as the other products and services provided to customers nationwide by this exceptional family-run business.
Under the new agency agreed at the start of 2015 with Doosan-Bobcat, Adare Machinery is now providing sales and service in Munster and Connacht for Doosan crawler and wheeled excavators from 3-53 tonne as well as the Doosan range of wheel-loader models with bucket capacities from 1.9 to 4.8 m3.
The Limerick company, which has been offering its customers unrivalled solutions for more than three decades, is also the authorised dealer in the same areas as well as Leinster for the complete range of Bobcat compact equipment, including skid-steer, compact-tracked and all-wheel steer loaders, compact excavators, telescopic handlers, utility vehicles and attachments.
These are major companies to bring on board as partners: Doosan is the oldest conglomerate in Korea, at 119 years old, while Bobcat is the only company in the world to have made over 1,000,000 skid-steer loaders!
We asked William Cuddy what it means to the business to have secured the prestigious Doosan and Bobcat franchises: "We are delighted to be appointed as the new authorised dealer for Doosan and Bobcat in Ireland," he confirms. "As one of the top five largest manufactures of construction machinery in the world, they have rich heritage renowned for quality, reliability and performance.
"They offer an almost unrivalled portfolio of products from large excavators to compact agricultural telehandlers. I recently had the opportunity of testing the new generation of Doosan excavators and wheel loaders which are very impressive and we looking forward to bringing these products to the Irish market."
Is this part of a deliberate strategy of expansion being pursued by Adare Machinery? "Yes, We have based our success over the years on being able to adapt to meet our customers' needs. By offering the full line of Doosan and Bobcat products, we are providing our existing and new customers an even wider choice of solutions for their businesses."
Located in the heart of County Limerick, Adare Machinery was established by David and Marian Cuddy in 1984 and has developed into a fully-fledged family enterprise, with son, William, and daughter, Caroline, now involved in the running of the business. Together with an excellent team of staff, the Cuddys continue to innovate, expand and grow the business.
Adare Machinery was the first company in Ireland to be awarded the New Holland Construction franchise and is now the longest-serving New Holland Construction dealership in Ireland as of January, 2013 – a testament to their commitment to the brand and dedication to providing top-quality service to customers. They are also agents for the New Holland Groundcare franchise (a division of New Holland Agriculture) since 1994, and more recently expanded into the waste and recycling industries with brands such as ALLU and Flexus. Latest additions include Stihl chainsaws, hedge strimmers and strimmers; Viking lawnmowers; and Ifor Williams trailers.
From a 10,000sq.ft. purpose-built facility, Adare Machinery services the construction, agriculture and industrial sectors (grain, coal, waste etc.) The depot includes a large parts shop, machinery showroom and state-of-the-art workshop, while they also have an on-the-road sales and service team which covers the country.
At the heart of the business lies an exceptional back-up service – something Adare Machinery is very conscientious about: "Any company is only as strong as its back-up support to its customers," William acknowledges. "One of the most important facets of our business is our promise of premium after-sales service. It doesn't matter if a customer has ten machines or one; it's vital to have structures in place to cater for any minor or major issues as they occur.
"We have a help desk, 24 hours parts availability and a team dedicated to aftersales support. Our aim is to minimise service recovery down-time and eradicate subsequent inconvenience to our customer. As equipment becomes more advanced, the most important part of aftersales is that you must constantly be trying to improve whether that be through technician training, or investing latest equipment."
Service, repair and recovery functions are carried out by a team of skilled, specialised technicians. Adare Machinery aims to rectify service issues on-site if possible and their fleet of service vehicles is amply equipped to facilitate most routine repair and maintenance work. More intricate or prolonged
Maintenance and repair tasks are carried out at the state-of-the-art, in-house workshop. A large amount of parts lines is carried in stock. "In the case that a particular part is not in stock, we can have it sent directly to the customer overnight," says David.
Adare Machinery has certainly come a long way since its inception 31 years ago. At present gainful employment is provided to a team of twelve, including sales, service, marketing and administration personnel.
In addition to taking on the agencies for Doosan wheel loaders, tracked excavators and wheeled excavators plus Bobcat telehandlers, mini excavators and skid-steer loaders , Adare Machinery is now also offering service and warranty work on all existing Doosan and Bobcat machines in its area, backed by a full selection of genuine accessories and parts.
Adare Machinery holds a vast stock of new and used Doosan and Bobcat branded machines. Customers can also benefit from the company's well-established on-site service network, covering everything from emergency repairs to routine maintenance. As well as covering existing contracts, Adare Machinery provides flexible service agreements depending on customer requirements.
Looking to the future and the plans of the outstanding family business going forward, William Cuddy concludes: "We want to continue to offer our customers the very best in aftersales service and solutions that are designed to fit their business needs. We are very excited to grow the Doosan and Bobcat brands in Ireland. They are fantastic products; you only have to look at other markets and their overall market share to see how well both brands are performing."

Adare Machinery
Adare, County Limerick.
Phone: 061 397777 Fax: 061 397677
Mobile: 087 2531852
Email: [email protected]
Taken from Irish Trucker & Light Commercials magazine, Vol 18 No 5, July 2015