Flynn Fuels so proud of its Mighty Quinn
03/03/2016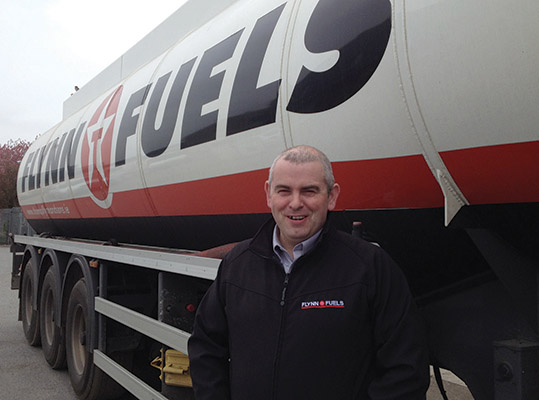 A small piece of history was made recently when Ciaran Quinn of Flynn Fuels, The Downs, Mullingar became the first ever Irish driver to win the Federation of Petroleum Suppliers (FPS) for the UK and Ireland Driver of the Year award.
Fighting off tough competition from both sides of the Irish Sea, Ciaran was announced as the winner at the FPS Expo 2015 in Harrograte, Yorkshire on Wednesday, April 22 last. Ciaran was shortlisted along with Raymond Geary of Barton Petroleum and Terry Chapman of Tincknell's for the prestigious award after a record number of entries had been received from across all sectors of the market.
The award is a huge honour for both Ciaran and his employers, Flynn Fuels, who are recognised as one of the leading Texaco oil distributors in the midlands.
Flynn Fuels manager Samantha Keegan is full of praise for Ciaran both as an individual and as an employee.
"He is a joy to work with," she enthuses.
"We are so, so proud of him. I have been the fuel manager here for 14 years and have seen many drivers come and go, and I can safely say that Ciaran is one of the finest drivers I have ever had the pleasure to work with.
"He's a local man who goes the extra mile for the company, staff and customers alike. He always goes above the call of duty."
Flynn Fuels managing director Thomas Flynn is also delighted for his award-winning driver.
"He truly deserves credit for providing a service for us and the customer that the majority of people would not consider or be physically able to do. Ciaran is a family man and very proud of that fact. It is often at the expense of his young family that he provides this unbelievable service and that is what makes his work and sacrifice all the more remarkable."
Sponsors of the Driver of the Year award, OAMPS Petrochemical's Andy Dix, who presented the coveted prize to Ciaran, said: "This award recognises the high standards being set by drivers in the UK and Republic of Ireland and we hope the awards will continue to encourage oil distributors to promote an ethos of safe driving, cleaner deliveries and outstanding customer care to create more drivers capable of winning this title."
Flynn Fuels promotional manager Patrick Marsh says the accolade is tremendous recognition for the family-owned business, which has been in the oil distribution business since 1993.
"It shows we are setting very high standards for Ireland and the UK. We run seven trucks, which in Irish terms makes us a medium-sized distributor but in UK terms a very small distributor. Compared to most of the UK oil distributors, whose fleet sizes are between 100 and 150, we're small fry. But that didn't stop Ciaran from receiving this award," Patrick comments.
"You have to give Samantha and the other six drivers huge credit as well because it's a real team effort here at Flynn Fuels. Ciaran would be the first to say he wouldn't have got the award without their support."
Ciaran, who drives the only tanker lorry in the Flynn Fuels fleet, is part of a team of drivers who are fully committed to ensuring that customers always receive a superb quality and friendly service at competitive prices. Flynn Fuels supply home heating oil, diesel, petrol, lubricants, tanks and accessories to customers across the counties of Westmeath, Meath, Longford and Offaly. The business' oil network allows it to deliver direct from Dublin Port and its Mullingar base. Flynn Fuels can guarantee delivery within 24 hours, six days a week.
Flynn Fuels also provides a service where you can call into their depot and use their pumps for auto diesel, marked gas oil and Kerosene. The company will soon have a presence at the opposite end of Westmeath with the opening of its new Athlone depot in Blyry Industrial Estate. The depot is due to open in September and will lead to the creation of additional jobs.
Flynn Fuels is part of Thomas Flynn & Sons Ltd which also encompasses Flynn Feeds, Flynn Machinery and an on-site store which caters for all your agri and hardware needs. Founded by Thomas Flynn Snr, the company had grown to employ 50 staff at its base on the Dublin side of Mullingar on the N4. The shop is open from 8.30am to 6pm Monday-Friday and from8.30am to 4pm on Saturdays.
Thomas Flynn & Sons Ltd has a long tradition of serving the needs of farmers in the midlands, specialising in farm machinery sales and service, work and safety wear, animal feed, fertilisers and, of course, fuel.
Flynn Feeds is committed to the production of superior quality feeds using only the finest ingredients. The business takes pride in using only the best available ingredients to produce both cost-effective and quality feeds. It supports local farmers by using home grown cereals in the manufacture of its products.
Flynn Machinery holds the Massey Ferguson and Fendt tractor dealerships. It became a main Massey Ferguson dealer in 1984 before adding the Fendt franchise in 2001. The commitment Flynn's have to their customers and their history in the agricultural sector ensures that all customers are 100 per cent satisfied with the service they provide.
The company's online shop, www.thomasflynnandsons.ie, sells a huge range of genuine Massey Ferguson tractor parts and accessories throughout Ireland. Flynn's ship orders to customers nationwide and guarantee delivery of all in-stock products within 48 hours.
A great supporter of the local community, Flynn Fuels has been the main sponsor to The Downs GAA club for over 20 years. The current county minor champions, The Downs are one of Westmeath's most successful football clubs with nine senior championships to its name, while the club also boasts some of the finest playing and spectator facilities in the midlands.

Flynn Fuels
The Downs, Mullingar,
Co. Westmeath.
Freephone: 1800 359667
Website: www.flynnfuels.ie
Taken from Irish Trucker & Light Commercials magazine, Vol 18 No 5, July 2015