50 and not out for McLaughlins
26/02/2016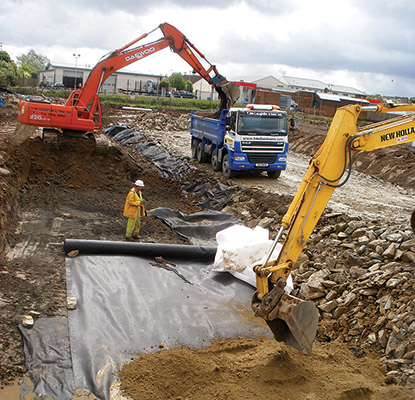 T McLoughlin & Sons are based on the Ardmore Road in Londonderry and in 2015 this family run business celebrated its Golden Anniversary.
In 1965, Terence McLoughlin who had been working as a machine operator with a local company beforehand, decided to go out on his own.
Terence gained valuable experience and he was soon approached by the local authority to carry out some work for them as well as other private work.
Not long after, Terence needed more machinery to fulfil the contracts he was been offered and the business grew over the years with his sons coming on board at different stages.
The company continued to grow and so too did the list of services that they provided, while their reputation earned them contracts both north and south of the border.
These days, Terence is in much entitled retirement and he leaves the day to day running of the business to his four sons Terence Jnr, John, Brian and Colum.
For this month's edition of Irish Trucker, we speak to Terence Jnr about the work ethos that their father has instilled into them and also about the various services that they provide.
"The main business activities of the company are civil engineering, plant hire, haulage, site clearance and demolition," said Terence Jnr.
"We provide extensive plant hire and haulage service to the local private and business sectors, with many machines ranging from - 3 ton mini excavators to 22 tonne tracked excavators; 7 tonne tipper lorries to 44 tonne G.V.W. trucks; 4WD tractors/dump trucks and 4 WD dumpers."
Terence also revealed that experienced drivers come with all machinery, while they are all certified to the highest standard possible.
"All our operatives/drivers have Streetworks accreditations and are CSCS/CPCS/CSR card holders. Many of them are with us years and are vastly experienced. It is important to have a reliable workforce and employees that know what they are at and we're fortunate to have a very good team here. There are about 15 working here altogether at the moment."
Terence added that the upkeep of the machinery was vitally important to them as everyone strives to avoid downtime. "The fleet is kept well maintained and we would upgrade every few years.
"We would deal with Northern Excavators and Delta Trucks (Martin Doherty) and we have a good business relationship with them. Most of the maintenance work would be done by ourselves and we have five trucks to look after with tipper and low loader trailers also part of the fleet."
When Terence Snr started out all of 50 years ago, we mentioned that he started doing work for the local authorities around then and they are still one of their customers to this day.
The City of Derry Airport and the Hospital Authorities are also on the customer base, while McLoughlins are not afraid to travel further afield for work.
"We would have a large customer base and we would do a lot of work for local contractors also. We offer a Groundworks package to our customer as well as the other services. We would also do a good bit of work in Donegal and surr-ounding counties. January and February are quiet months for us, but there are a few contracts in the pipeline."
Terence added that they were also considering exploring the mainland U.K market for work. "Obviously, we would like to stay local as possible for work, but if the need arises, we would have no problem heading over to England for a contract."
Of course, safety is paramount for the company and nothing is left to chance when it comes to the safety of their employees and others.
"As a company, we recognise the importance of managing occupational health, safety and welfare throughout all of our operations and activities. We regard Health and Safety as an integral component of our business and service. We are committed to establishing and maintaining safe systems of work and a safe and healthy working environment. We are an ISO 9001 (2008) and BS OHSAS18001 (2009) registered company and are constantly reviewed and monitored to effect improvement."

T. McLaughlin & Sons Ltd.
20b Ardmore Road, L'Derry BT47 3QP
Telephone: 028 7134 5632 Fax: 028 7131 8282
Email: [email protected]
Rep of Ireland customers telephone: 048 7134 5632
Taken from Irish Trucker & Light Commercials magazine, Vol 18 No 4, June 2015