C.D.E. continue to evolve and move forward
23/02/2016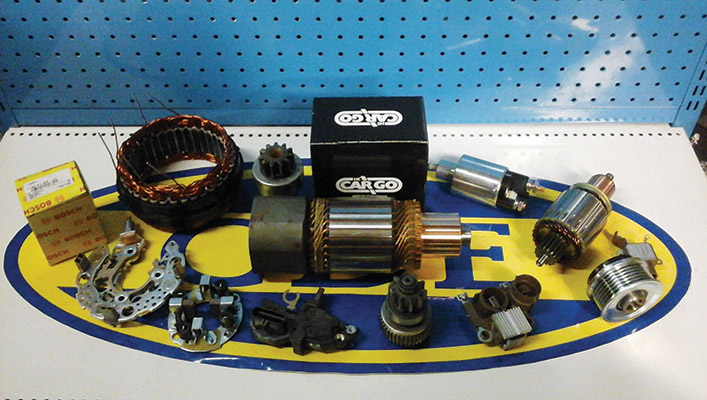 Under the guidance of Finbar McKeown, Commercial Diesel & Electrical (C.D.E), the company he founded, has been operating since 1964. 2014 saw it mark its 50th year in business.

C.D.E. is now a family run business with Finbar's two sons Troy and Dion working side by side with their father for many years, helping to grow this successful business. Since its inception C.D.E. has grown to become one of the leading suppliers of vehicle lighting in Ireland whilst at the same time providing a specialist auto-electrical solution service to vehicle owners from its workshop/garage based in Carrigtohill, on the eastern suburbs of Cork city.
Specialising in the provision of auto electrical products and service C.D.E. has evolved over the years in line with the demands of its discerning customers. We at Irish Trucker were interested in finding out how the company operated during the boom years and through the depressed market of the last number of years. We met up with Finbar and his team who reminded us that during the past fifty years Ireland has experienced many a slump, recalling the 1980's and the vast number of people leaving these shores in search of work.
"I wanted if possible to ensure my destiny was within my grasp when setting up the business," Finbar remarks.
We asked Finbar what was the secret to his success? His answer was simple - "Hard work and don't spend what you don't have."
Since 1964 many well respected vehicle brands such as AEC, BMC, Bedford, Commer, Guy, Leyland and many more have all been consigned to the history books. This current cycle of business has wiped out many a motor factor including some of the larger factor groups and local haulage contractors.
"Sadly we were impacted by a number of customers closing and it was hard to witness some , whom I classed as friends, suffer from the downturn. Because we are a small family business we reacted quickly and cut our cloth to suit."
During the so called boom years the McKeowns didn't fall into the same trap as many others within the trade, which was to buy impressive new premises at inflated prices. Instead they opted to increase storage space by adding two new floors to their existing premises. Another strategy followed by Finbar and his team was to reinvest in the stock levels and other aspects of the business that will help grow and sustain current business levels. Carrying sufficient quality stock at a reasonable price is one of Commercial Diesel & Electrical's strongest market advantages.
Hauliers are running less vehicles today and when one breaks down they require it back on the road as soon as possible. A truck parked in a garage is costing its operator money with the possibility of losing a haulage contract. Troy states: "When our customers need a part we try to have it in stock which means they can have it the same day or overnight by courier."
When C.D.E. began they focused predominantly on starter and alternator repair and diesel work. In the 1990s they branched into the world of vehicle lighting. Over the years this has seen C.D.E. become Irish distributors for some well-known lighting brands such as SIM, Vignal, Durite, Led and Valance.
"We have developed some of our own lighting systems which are manufactured to the highest specifications," explained Troy. "We take great pride in shipping this product to customers throughout the world."
In recent years the company has moved away from diesel repair work, whilst providing a more varied and complete range of products and services than ever before. One growth area in the last number of years, and included in future expansion plans, is the area of starters and alternators.
Dion heads up this area and explains that in recent years the company has included in its stock levels brand new starters, alternators and component parts for car, light commercial, plant, HGV and bus. "During the downturn when HGV's where being taken off the road we were being asked daily for starters etc. for cars," said Dion. "To supplement our business we decided to pursue this avenue for growth."
This now has turned into a success for C.D.E where they are now offering customers a choice of a new unit, re-manufactured unit either factory or in-house or for those on a tight budget a cost of repair service. Dion goes on to explain: "We are now offering customers new component parts if they wish to repair their own. This range of parts we are distributing to other auto-electricians here in Cork and nationwide. Our aim is to become a one stop shop when it comes to starters and alternators."
Long term members of the team include Eugene Stephens whose responsibility includes Business Development and maintaining relationships with existing customers. He is supported by stores manager Eamonn McSweeney who ensures stock levels are maintained and manages tele-sales and a busy trade counter.
They say behind all good men is a hard working woman and in C.D.E.'s case this is no different. Joanne Power as office manager is responsible for all matters pertaining to running an efficient accounts/office operation. During our visit it was evident to us that although each team member has a particular area of responsibly they all have an insight into each other's roles which allows for flexibility and increases efficiently.
We met Joanne and asked her about the difficulties in collecting money during this climate. She explained to us that last year they installed a new computer system comprising of both hard and software. This allows for efficient monitoring of not alone stock but of debtors and creditors ledger. "We have customers who have fallen behind with payments but it is our policy to work with them in bringing their accounts back within terms. I believe it is about finding a solution to the problem that suits them and us," explained Joanne.
Joanne also pointed out that prompt payment to suppliers is one of Finbar's beliefs. Many foreign suppliers have been caught when their Irish agents went into liquidation. "Our suppliers remain loyal to us and one reason for this is we pay them on time and in some cases before the goods are shipped."
We were pleased to learn from Finbar that the months ahead will be exciting for all at Commercial Diesel & Electrical. He has just completed the purchase of the Ballinlough Refrigeration Facility adjoining his building. This means an increase to double in size of warehouse/garage facility.
Dion explains that the new workshop will accommodate three forty foot vehicles together with two light commercial/car workshop bays: "Our plan is to move my existing workshop next door in conjunction with our vehicle garage. We plan to have state of the art re-manufacture facility for rotating electrics. We have recently invested in new machines such as Topaz computerised test bench for starters and alternators. This machine comprises of 180,000 thousand part numbers and provides a printout of all tests carried out. Added to this capital investment in plant is a fully automated Guyson Beed Blaster and a Sonic parts cleaner. This new equipment means a more efficient and effective service to our customers."
With these pending changes everyone at C.D.E. will be busy helping to re-organise the existing and new facility. Eamonn McSweeney states: "I am looking forward to having an increase space in the stores area. We have suffered in the past with having limited storage space available. Our plan is to utilise the space left vacant by Dion when he moves his re-manufacturing and starter / alternator stores next door. I envisage this will increase my stores area by fifty percent thus allowing me to manage the stock more efficiently."
The new facility will hopefully reduce the number of times Finbar or Troy will need to work out in the yard. Troy explains: "In the past when the workshop was busy at times we worked on vehicles in the yard. This of course is not ideal especially in bad weather when using our laptop for diagnosing faults. This new facility will not alone provide us with a little comfort but also our customers due to the fact that we will be providing a new waiting area for drivers as part of our plans. We also plan to develop a new shop / counter area to help develop local business. Dad has done a wonderful job in building up this business and both myself and my brother Dion plan to provide all our customers with the best service we possibly can in the coming years."
Finally we met up with Eugene Stephens for his thoughts on C.D.E. Eugene has worked for 35 years in the trade and has spent the last ten with Finbar. He explains: "My role can be described simply as looking after the needs and wants of our customers and matching them with our business development requirements. It is about developing and maintaining relationships with customers and colleagues within the trade.
"I spend ninety percent of my time visiting customers throughout the 32 counties. These customers comprise of mainly motor factors and main vehicle agents. Unlike some of my competitors I stay loyal to customers in particular areas which means not selling to all and sundry. I do not think we can expect our customers to stock our product and then sell behind their backs. In other words loyalty works both ways. Two of our U.S.P's are our stock range and our unrivalled product knowledge. We have an extensive range of quality product available ex-stock at a reasonable price. In today's fast moving environment vehicle downtime must be kept to a minimum.
"Our vehicle lighting range is one of the largest in Ireland and we can adapt lighting to suit a customer's requirement. This can be achieved due to the fact my colleagues at H.Q. are auto-electricians and have the requisite skills to do such a task. We sample test our lights in the market by fitting them in our workshop prior to selling them through our customer network. This differentiates us from our competitors as most import the lights and do not have the specialised knowledge of their workings as we do. I can also rely on my colleagues to help a customer if they require technical assistance. We pride ourselves in knowing our product."
Do you foresee continued growth in the coming years at C.D.E.? Eugene continues: "Trading conditions are still challenging at the moment, however we are beginning to see a return on the investment we have made in our stock range. As stated above we identified the starter / alternator market as having potential and we do explore opportunities for products or services that have synergy with our existing business.
"One such example is becoming the sole Juratek agent for the south just over a year ago. Juratek is one of Europe's leading suppliers of brake disc, brake pads, air springs, shock absorbers and steering and suspension components. We are satisfied with the market penetration we have achieved in the past year and we have identified this product as having growth potential.
"Along with the lighting and Juratek agencies we distribute, we are Tube Gear agents for vehicle fittings and piping and this compliments a range of air brake components we sell. Tachograph repairs are another area that is a niche market for us at C.D.E.
"To finish I would say I am confident that we will continue to grow, due to quality workmanship, quick turnaround times, competitive pricing, stock levels and the high levels of customer service that have become the hallmarks of this family-run business for the past fifty years."
It is clear to us at Irish Trucker that the strategy of incremental steps of expansion being pursued by C.D.E. has been carefully thought-out and executed by Finbar and his team. Whilst others stagnate, C.D.E. is evolving and moving forward in an impressive fashion.
Commercial Diesel & Electrical,
Carrigtwohill, Co. Cork.
t. 021-4883780 f. 021-4883085
e. [email protected]
w. www.cdeled.com
Taken from Irish Trucker & Light Commercials magazine, Vol 18 No 4, June 2015