MAHA Ireland always pass the test
22/02/2016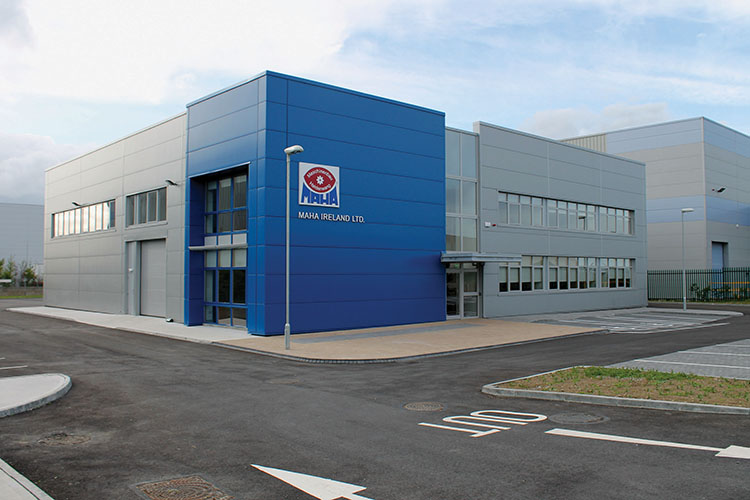 MAHA Ireland Ltd offer their customers "a one stop shop" for all their vehicle testing equipment needs. Speaking to Irish Trucker, Managing Director John Mallon revealed the secret ingredients of their winning formula.
"I started off as a one-man band," John recalled when tracing the roots of the company in conversation with Irish Trucker magazine. John set up the company in March 2008 and within one year after setting up MAHA Ireland, he signed a contract with The National Car Testing Service (NCTS) to fit out 43 vehicle test centres nationally which included 85 test lanes.
And, it's fair to say that it has been a case of onwards and upwards ever since for the Rathcoole-based company. "Needless to say that got the company off to a great start and gave us a great lift."
Since then the company has grown in every respect and has established itself as the market leader for vehicle testing and workshop equipment in Ireland.
Additional chapters in in the MAHA Ireland success story were written in 2001 and 2005 respectively when The Driver Vehicle Agency (Northern Ireland) signed an exclusive contract for Maha equipment and The Vehicle Testing Network (VTN) commenced their upgrade program of which Maha Ireland secured more than 65% market share.
MAHA is currently considered to be the leading manufacturer of Vehicle Safety Test Equipment, vehicle lifts and dynamometers. The product range covers applications for car, commercial and agricultural machinery workshops.
Their products are renowned for their quality and reliability and it is the policy of MAHA Ireland to provide the highest standards of professional practice and to maintain the quality of its service to all its customers.
For testing and safety technology which includes Brake testers, Suspension Testers, Emission Testers and Headlight Alignment Testers to lifting technology, look no further than John and his team at MAHA Ireland.
MAHA products are also approved by many leading car manufactures like Mercedes, BMW, Audi and Volkswagen John added.
"We are a wholly owned subsidiary of MAHA and MAHA Ireland is the sole distributor of MAHA products in Ireland," explained John.
"The difference is we're not at an agent for MAHA and that gives us a major advantage over our competitors. We can provide full project management, provide a full fit out of workshops and, basically, we are a one stop shop for all our customers' needs."
Maha Ireland Limited is proud to offer their customers the assurance of being a quality orientated company.
In 2005, they were awarded the Quality mark of ISO9001. Six years later, in 2011, they were accredited as a calibration laboratory to the international standard of ISO17025 by the Irish National Accreditation Board (INAB). Over the years they have established an extensive and loyal customer base from small one bay workshops to large testing bodies.
Their valued client list also includes testing organisations, government bodies, franchised dealers and independent workshops for both car and commercial vehicles.
Today the company employs 20, including John's son Eoin, and their staff is made up of mobile service engineers which are strategically located across Ireland with sales and administration support staff based out of their premises in Greenogue Business Park.
Their engineer's vehicles are dedicated mobile calibration units carrying the required equipment to facilitate calibration needs while a selection of parts is also at hand for the engineer to enhance the possibility of first time fixing.
Suitably trained both internally and off site at the training facility in Germany, MAHA Ireland's dedicated team are committed to carry out installations, calibrations and repairs to the high standard expected by their customers and ensuring the best possible service is offered and maintained.
There has recently been a marked improvement in the economic climate and "We have witnessed quite an improvement in business over the last few months and we're optimistic about the future," John remarked.
"People seem to be more willing to invest recently and while we're not back up to where we were, there are signs of improvement. Car and commercial vehicle sales are certainly well up."
He continued: "We recently moved into new premises which is two and a half times the size of our original one. It's a purpose built facility, providing us with more office and workshop space, but the biggest thing is the display area. We have installed a dedicated test bay with our own equipment for training and display purposes."
Open for business Monday to Friday (8.30am to 5pm), MAHA Ireland offer their customers the widest product range in the business. Give John and his team a call on the numbers below to find out more.
MAHA Ireland Ltd
629 Jordanstown Avenue,
Greenogue Business Park,
Rathcoole,
Co. Dublin
Tel: +353 1 458 7548 Fax: +353 1 458 7552
Email: [email protected]
Website: www.mahaireland.ie
Taken from Irish Trucker & Light Commercials magazine, Vol 18 No 4, June 2015