Grab hire, nationwide by AJ Grab Hire
19/02/2016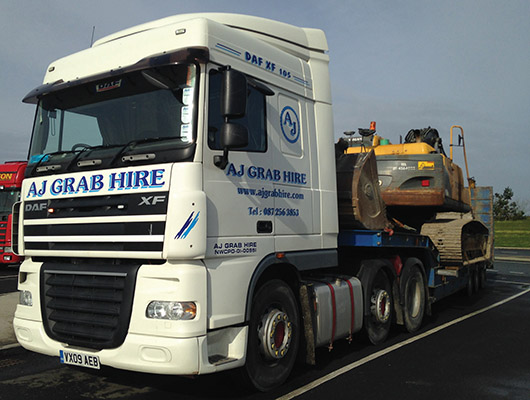 Operating out of Castleblayney in County Monaghan and with three bases in the capital, AJ Grab Hire provides nationwide grab hire services to remove muck, topsoil, demolition material, construction waste and sand & gravel from both commercial and private sites. We met up with founder Barry Nugent to get an insight into day-to-day operations at this impressive family-run business.
In March, 2016, AJ Grab Hire will celebrate its tenth anniversary. But the genesis of the Monaghan-headquartered company goes back further than nine years, as founder / proprietor Barry Nugent explains:
"It's a family-run business, run by myself and my wife Siobhan. We always worked in utilities and used to have a fleet of tippers. When our children Joe and Amy were born, we decided to change the name and we started AJ Grab Hire in 2006. We went from lorries with no cranes to lorries with cranes and the business took off from there."
Grab hire services are provided to large utility companies and private individuals, nationwide, from clearing sites to landscaping and waste removal. AJ Grab Hire is C2-registered, fully licenced and insured, operating a fresh, modern and well-maintained fleet of trucks and equipment, manned by experienced and conscientious personnel. All drivers are insured and hold current safe pass certificates.
AJ Grab Hire is fully-permitted to work with all utilities, including gas, ESB and water, and this has become their specialist area of expertise. The company also carries all the relevant waste licences for all regions.
An exceptional service is provided and there's never a quiet day either in the office or out on the road. "The vast majority of our work is in utilities and we are mostly working in Dublin at the moment," Barry confirms. "We do a lot of work for Balfour Beatty CLG, for example [working on Bord Gáis' Networks Transformation Programme], and we're also working on the Luas and on the water meters at the moment.
"We cover all utilities – water, gas, ESB and sewage – and also do small demolition jobs like removing rubble etc. When a client is working on a particular site, we'd normally take waste away and then load up in their yard and bring other materials back to the site. As well as utilities, we also do a fair bit of work for small builders"
In order to provide an optimal level of service at all times – something AJ Grab Hire has done since Day One - Barry oversees a superb fleet of specialist vehicles, which is constantly renewed and upgraded. Money is regularly invested not just in new equipment but also to ensure that the existing vehicles are preserved in top nick.
At present, AJ Grab Hire operates a fleet of nine lorries, seven of which have cranes mounted on them. At the time of writing, Barry and Siobhan had just taken possession of a striking new DAF 142. And a new crane-mounted Scania P410 tipper was also on its way to the yard.
"We have two Scanias, one Volvo and the rest are DAFs," the Monaghan man continues. "When you run a top-quality fleet, then you can guarantee your clients the best possible service."
In this particular line of work, customer service is king, and this is an area in which AJ Grab Hire has never been found wanting, which explains why the company has been able to flourish, even during the most challenging economic times that coincided with the early days of the business. The recession struck not long after AJ Grab Hire was established but the Castleblayney company has come through unscathed. Barry and Siobhan oversee a lean and efficient operation.
"We employ ten people at the minute," Barry continues. "Three of the lorries come with helpers as well as drivers. We have men from all over the country – one from Sligo, one from Galway, a few Dubs. I travel up and down to Dublin from 'Blayney every day and we also have a man from Donaghmoyne and another from Bailieborough."
While Monaghan is still very much the company base, AJ Grab Hire boasts three depots in the capital – one close to the airport, a second in Rathcoole and another beside the Citywest. The modern workshop is in Castleblayney and all fleet maintenance and servicing is carried out in-house.
Business is going extremely well at present and Barry estimates that at least seven or eight of his lorries are out on the road every day. Looking to the future, he will continue to provide customers big and small with the same stellar service for which AJ Grab Hire is renowned nationwide, with the emphasis remaining on quality service, dependability, professionalism and safety – all provided by an experienced staff operating the finest fleet of crane-mounted trucks that money can buy.
"It's gone well for us so far and we'll just keep tipping away," the Monaghan man concludes.

AJ Grab Hire
Cornassonagh, Shantonagh,
Castleblaney,
County Monaghan
Telephone: 042 9745734 Mobile: 087 256 3853
Email: [email protected]
Taken from Irish Trucker & Light Commercials magazine, Vol 18 No 4, June 2015