Recovery, repairs, diagnostics
17/02/2016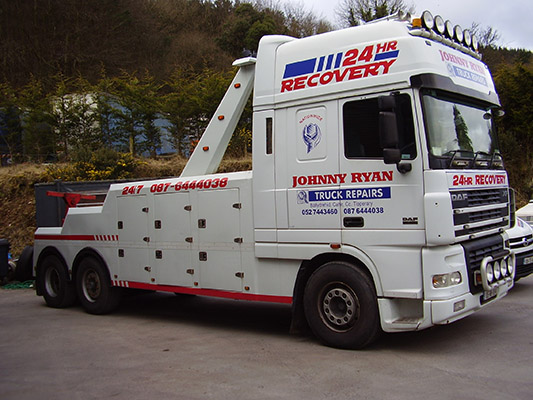 For fifteen years now, Johnny Ryan Truck Repairs in County Tipperary has been providing unrivalled breakdown and recovery, repairs, servicing and diagnostics solutions to an increasing number of satisfied customers across the Munster region and beyond. We visited the state-of-the-art HGV workshop
in Cahir and discussed the range of services provided with the eponymous founder.
With almost three-and-a-half decades of experience of heavy commercials, it would be fair to say that Johnny Ryan knows his way around a truck! The Tipperary man fronts one of Ireland's premier independent HGV repair centres, providing a number of exceptional services from his well-appointed base just five minutes from the M8.
All makes of trucks and trailers are repaired and serviced along with a 24/7 heavy vehicle breakdown / recovery service covering Tipperary, Waterford, Kilkenny, Limerick and Cork. And, when it comes to truck diagnostics, covering all truck and trailer systems (including ABS, EBS, engine, suspension etc.), Johnny has the equipment, personnel and experience to match – if not exceed – main dealers … but at a fraction of the price.
Running WABCO, KNRR, BREMSE and HALDEX gear, Johnny Ryan Truck Repairs boasts main dealer equipment for DAF, Volvo, Mercedes, Renault, Scania and Mitsubishi in addition to Texa diagnostics for other makes, including MAN, HINO, and IVECO.
Johnny has been involved in the motor industry for over three decades and has been fronting the Cahir operation for 15 years now. Reflecting on the genesis of the business, he notes:
"I set it up in 2000. I'd been involved since '81and served my time working with Surehaul before deciding to go out on my own."
From humble beginnings, the business was painstakingly built up. Since Day One, Johnny has been completely customer-orientated, providing a high quality service which has seen Johnny Ryan Truck Repairs grow in popularity with each passing year. In any line of work, when you look after customers, half the battle has been won…
"I started off with a mobile van, going from job to job, covering Tipperary and Waterford," Johnny explains. But only limited service can be provided on the road. As he became busier, the need to open a workshop / garage facility became more pressing. To this end, Johnny has been operating out of his current base since 2009 – a 2,400 square feet dedicated commercial vehicle workshop featuring two bays – one with a truck lift – as well as all the latest repair and diagnostics equipment.
Of course, all this equipment is worthless without the right men to operate it. Johnny is a hands-on proprietor and is always on site to oversee all jobs. He also employs two other technicians, one of whom has over ten years' experience of commercial vehicles.
Johnny still maintains a strong presence on the road as well. Fleetwise, he owns an Opel Movano service van and a DAF XF recovery vehicle, which mostly works locally but covers the 26 counties.
Johnny Ryan Truck Repairs is a one-stop shop for all commercial vehicle repair, servicing and diagnostics needs, providing a comprehensive service throughout a large catchment area across Munster and beyond. "We'd regularly cover Tipperary, Cork, Limerick, Waterford and a bit of Kilkenny but, like any other garage, we'll go wherever the work is."
No job is too big or too small and Johnny deals with everybody from owner-drivers up to fleet operators, from small vans to the largest HGVs. "We do a good bit of fleet work and a lot of our customers would be with us since the early days. When you get a lot of repeat business, you know you're doing something right. We also do pre-testing and we're very busy with the twelve-weekly checks since they were introduced."
Investment in the latest technology is ongoing. Only by embracing the latest advancements in the industry can the best possible service be guaranteed. "You are investing in the business every day," says Johnny. "There's always new technology, new equipment and new gadgets to consider … faster and more effective ways of doing things. You have to keep in touch will all these changes and you have to be prepared to spend money. The day you stop investing in your business is the day the whole thing passes you by."
Such is the nature of the work that it isn't practical to give customers a price in advance. Johnny's priority is to do every job properly to the best of his ability and then to charge a fair rate for the work done. This way, owners can rest assured that they are getting their vehicles back in prime running order.
"All jobs are priced per hour and all work is done properly," the Tipperary man confirms. "I'm very honest about this and you can't really give a price until the work is done. Every job is done properly. I have a good reputation and will do a professional job every time. Customers know that they will get back a vehicle that is going 100% and this gives them peace of mind. They're happy with this and that's why they keep coming back."
Johnny is always on call. The mobile is never switched off and he offers a 24/7 breakdown / recovery service. He's contracted to cover County Tipperary for accidents and also handles call-outs for regular customers. In 15 years, he's never seen a customer stuck … he's not going to start now!

Johnny Ryan Truck Repairs,
Ballydrehid,
Cahir,
County Tipperary.
Tel: 052 7443436 Mobile: 087 6444038
Taken from Irish Trucker & Light Commercials magazine, Vol 18 No 4, June 2015