An A1 service
04/02/2016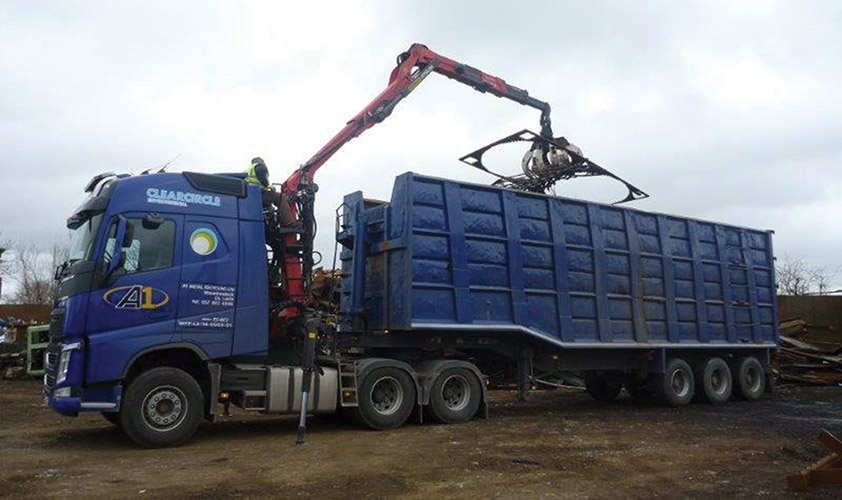 A common sight on around the Irish countryside and in particular farming areas is the amount of scrap metal strewn in ditches and yards alike.
People may feel that these metals may have no value, but that is far from the truth as there are specialised companies in Ireland who make their living out of recycling scrap metal.
For this month's edition of Irish Trucker we profile one such company and find out about the services that they provide to their loyal customer base.
A1 Metal Recycling is located in Mountmellick, Co Laois. The company traded under Ward Recycling for many years up until 2006 when it was bought by investment company one51 plc.
ClearCircle Environmental is a wholly-owned subsidiary of investment company One51 plc. The enterprise was formed following the acquisition and ongoing integration of almost 30 individual businesses since 2005.
Between 2005 and 2010, One51 acquired a number of businesses within the waste management sector. As part of One51's integration process, these businesses were subsequently brought together under the name ClearCircle Environmental.
As a leading resource recovery and resource management company with operations throughout Ireland and the UK, ClearCircle incorporate Metals Recycling, Hazardous Waste Management and Materials Recycling. The core business of the company is the sourcing of waste material which is subsequently processed into a product for sale or reuse.
Today, ClearCircle Environmental is one of the largest resource recovery and resource management companies in Ireland, with a growing presence in the UK. Employing over 1000 people across almost 30 sites, ClearCircle Environmental, aims to be a single point provider across the spectrum of recycling needs including metals, hazardous waste and plastics.
A1 Metal Recycling is one of four metal recycling under the ClearCircle umbrella in Ireland with the other companies being Cork Metal Company, Galway Metal Company and Clear Circle Metals, Limerick.
General manager of the Mountmellick plant is Finbarr Bride and he explains to us what the company actually does on a daily basis.
"We collect and process both ferrous and non-ferrous metals and we would cover the greater Leinster area. There are a fleet of trucks here that collect the materials and we would have an extensive customer base, many of who would be our clients for many years," said Finbarr.
"We work in conjunction with ClearCircle Environmental's other Irish metals sites in Cork, Galway and Limerick, we offer a comprehensive service to a wide range of customers."
Key Features of the service provided include processing scrap metal, copper, aluminium, lead, stainless steel, nickel alloys, cast iron and end of life vehicles.
"All types of metal are collected and processed here. A lot of our materials would come from farmers and the general public, while the likes of Burnside Engineering would be long-time customers of ours. "We collect all materials and we have two artics and a rigid, two roll-on, roll-off and one chain link skip truck on the road full time and we would be processing in the region of 600 tonnes of scrap per week.
"When processed, our trucks then bring the materials to the Galway or Limerick docks where it is then shipped to Northern Spain or Turkey.
"Business is going well, we have a core group of customers that we cater for. There is always investment being made into the business and we are in the process of buying a brand new truck, while in the recent past we have added a scrap handling machine to help improve the volume of scrap we can process."
Legislation is a key area of the waste management industry and there are many permits and regulations to be adhered too. Finbarr admitted that despite the extra paperwork, the legislation had made the industry a more level playing field.
"There is always new legislation being introduced and it is for the benefit of the industry. It has got rid of a lot of the rogue operators that were out there, although there are still some in business.
"We have the appropriate permitting and licensing, as well as the know-how and best practices in health and safety are core tenants of our business. The facility here in Mountmellick has a permit from the local authority to carry out our duties, while we also have an All-Ireland waste collection permit.
A1 Metal Recycling offer a drop-off and collect skip container service backed by a dedicated fleet. In order for the fleet to be working to full capacity, the trucks are well maintained by local mechanic Paddy O'Connell, while the tyres are also bought locally from Ian Dunne.
There are 25 employed at A1 Metal Recycling and each is highly trained in their own area and Finbarr admits that without the staff, the business wouldn't exist.
"There is a good work force here, many of who have been here years and they have a lot of experience between and that is what makes the business work so well."
The facility in Mountmellick house state of the art equipment to carry out the procedure of processing the material with metal shearing, bailing and string technology all being operated on the premise. There is also a range of dedicated and vehicle mounted grab loading machines all of which enables them to offer a comprehensive and excellent service to their customers.
"We work closely with the three other facilities and the system works very well for all of us. We are looking forward to a bright future."

A1 Metal Recycling
Acragar, Mountmellick, Co. Laois, Ireland
Tel: +353-57-8624119
Email: [email protected]
Taken from Irish Trucker & Light Commercials magazine, Vol 18 No 4, June 2015