Experience is the key for M Toland Plant Hire
29/01/2016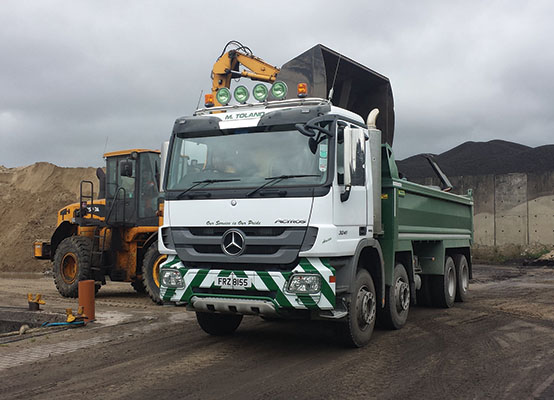 However, there were certain businesses that had the wherewithal to come through that period and they are now looking forward to an increase in construction.
Slowly, but surely the tide is beginning to turn and throughout the 32 counties, there are more and more projects starting up.
One thing that the majority of firms had in helping to survive the latest downturn was experience. Through this companies learn valuable lessons over the years which they use to make their business more complete.
Sixteen years ago, Miah Toland and his wife Catriona decided to set up their own business and from humble beginnings, their hard work has seen M Toland Plant Hire grow into one of top firms in their field of expertise.
Based in Derry/Donegal Miah started off with one tipper truck, but as the customer base grew so did the size of the fleet and these days they now boast an extensive range of machinery including 14 8-wheelers, 3 artics, including Daf, Renault, Mercedes and Scania along with a range of excavators.
Catriona, the company's Transport Manager told us that it took a lot of work at the start to get the business up and running. "It was tough at the start and it took a lot of time and commitment to establish the firm. We knew that consistent and persistent action was the key to ensuring success. The pivotal moment came during the downturn in the economy, choices had to be made, we could either let the recession beat us or we would beat the recession. We decided on the latter.
"We've always had the motto of 'if you fail to plan then you plan to fail' and that has stood us in good stead over the years. The customer base has grown considerably over the years as have our range of services that include all types of tipper work, along with the full range of plant hire services," said Catriona.
"We are currently in control of in excess of 90% of all muck shifting in the Donegal/Derry area."
One of the highlights of running a haulage company on a personal level came in July 2013 when rock icon Bruce Springsteen asked to meet the Toland family and sign one of their trucks that Miah had got airbrushed with Springsteen images. It's not every day that you get "The Boss" to sign your truck!! That sure was a plan well worth the effort.
Some of the customer base that M Toland Plant Hire has been associated with over the years include FP McCann, Lagan Construction, Moriarity's, Ferrovial, TAL and BWSC.
"We are fortunate to have a loyal customer base, many of whom we have been working with for years. Our customers know the level of service that we provide and it is up to us to ensure that the get the same level of quality from us on each job that we do."
The experience gathered by the company over the years has seen them involved in jobs not only in Northern Ireland, but in the south as well as part of mainland U.K.
"We have bases in Derry, Donegal and England."
Catriona revealed that they have all the necessary permits to carry out a full waste solutions service. "We have all the waste permits needed to cover C&D waste for both north and south of the border as well as the U.K."
To carry out their duties to the highest order, a number of factors have to be in order including the fleet. "We generally upgrade the fleet every two to three years and all plant and trucks are maintained to the highest order. We have invested almost half a million this past year upgrading the fleet which includes the purchase of three new Renault trucks. A small amount of the maintenance is done in-house, the remainder is outsourced, mainly carried out by top mechanics, Pat Doherty of Buncrana and Stephen Duncan (Duncan Commercials Ltd) who do an excellent job ensuring that the fleet is kept to the highest standard."
Another key aspect of any successful business is the work force and to this end M Toland Plant Hire are fortunate to have an experienced team at their disposal.
"We employ 20 here, many of who have been with us years. All are excellent in their area of expertise and have been trained to the highest standard. I believe that the bottom line is, it is the people that make the business. Recognition of a job well done is every bit as important if not more so than discipline. Effective on-going communication with the work force is vital in ensuring a good and effective working environment."
Catriona admits that they were very pleased with the way business went last year and they have no doubt that they can build on that this year.
"Two thousand and fourteen went very well for us. There were a number of projects ongoing and we will continue to not only maintain but to expand in to 2015 and beyond. No one knows what the future holds, but you have to have faith and trust in the industry and the service that we provide."
Catriona concluded by stating that "Our Service is Our Pride. We offer a professional service to our customers and they know what to expect from us. All jobs are done to the highest standard in a professional manner. When a problem arises we don't let it stop us we simply find the best solution."
"Our aim is to continue providing the same level of service and ensuring that our customers are more than satisfied with the work that we provide.
"We will continue to invest in the business to ensure that we can compete at the highest level. We have a number of projects ongoing at the moment and there are a few more in the pipeline, so we are indeed looking forward to the future."
The main learning factor throughout our journey in this business and in life in general is:
"Experience Cannot Be Learned, It Has To Be Earned."
M Toland Plant Hire
Co. Donegal/ Co. Derry
Email:[email protected]
Miah: 0868372887 Catriona: 0860530557

Taken from Irish Trucker & Light Commercials magazine, Vol 18 No 4, June 2015