Terberg DTS (UK) launches new Specialist Trailer Division
18/11/2015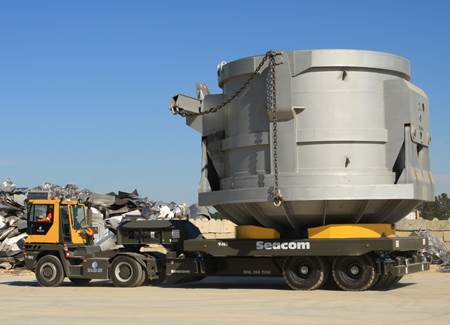 As a result of increasing demand for the specialist trailers offered within its current product portfolio, leading specialist vehicle provider Terberg DTS (UK) Ltd has announced that it has now established its specialist trailer business as a stand-alone division within the Yorkshire-based company.
The Specialist Trailer Division of Terberg DTS (UK) Ltd will provide a solutions-type approach to its business operations, offering the company's existing customer base with additional product scope, whilst encouraging growth in those commercial areas where the company is currently not active, including areas such as the waste and recycling industry as well as the wind and nuclear sectors.
Announcing details of this new division, Terberg DTS Managing Director Alisdair Couper said, "In 2015 so far, we have had a record year for our specialist trailer sales. It made sense for us to create this as a stand-alone division for what is now a recognised and successful product group within our overall company portfolio."
Within the Division, Terberg has successful existing relationships with German trailer manufacturer Seacom, as well as the Finnish company Liftec, who design and manufacture self-loading cassette systems for ports and heavy industry. As with all Terberg product groups, these specialist trailers can be supplied through a number of procurement models, including outright purchase as well as short and long term rental options, all of which are supported by Terberg's proven 24-hour nationwide service support facility.
The launch of this new division within Terberg also sees the return of Bob Holt to the company, in the newly created position of Specialist Trailer Sales Manager, with responsibilities for both the UK and Irish markets supported by Mark McCluskey of MPM Specialist Vehicles. Bob, who will report to Richard Woodings, Terberg's Head of Sales (UK & Ireland), brings with him a wealth of knowledge in the specialist vehicle sector.
"Our relationship with both Seacom and Liftec has gone from strength to strength in recent years, with trailer sales into the UK increasing year-on-year. By establishing trailer sales as a stand-alone division with ambitious future product plans, and combined with the return of Bob Holt, we believe that there are substantial growth opportunities for us in this sector. Bob fully understands the Terberg business model as well as being extremely well-known and experienced within the industry, so his presence will give the Division a major boost," added Alisdair Couper.
The SEACOM range of trailer products is designed to meet the requirements of internal logistics and port operations as well as heavy-duty transport. The high quality range of products span from industrial trailers, roll trailers, cargo trailers, and goosenecks as well as lift trailers with a capacity up to approximately 350 tonnes. TTS Liftec Oy design and manufacture self-loading cassette systems for ports and heavy industry. The company's portfolio includes systems for containers and cargo cassette handling. This is perfectly suited to the RoRo application where Terberg tractors are so successful.