EDGE Innovate appoint Ormonde Machinery as new Irish distributor
28/10/2015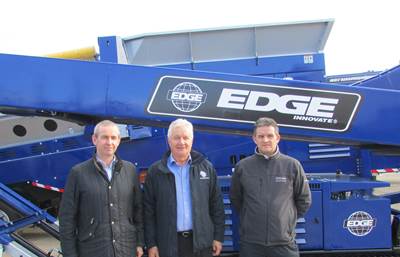 Edge Innovate are delighted to announce Ormonde Machinery as the exclusive dealer for the complete EDGE Innovate product line in Ireland. From their base in Kilkenny, Ormonde Machinery provide a wide range of quality, robust equipment to meet the demand of their ever growing client base within the construction, quarrying and recycling industries. As Ireland's construction industry has demonstrated substantial growth with new orders rising once again for the twenty-fifth successive month and improving economic conditions; it would appear to be the correct time for EDGE Innovate to expand its' brand presence at home. Ormonde Machinery specialise in the field of materials processing equipment and have established a strong name and market presence over the past number of years.
"We are delighted to join forces with Ormonde Machinery. Withinvaluable expert technical knowledge and dedicated service support, Ormonde Machinery is the perfect partner to represent and grow the EDGE brand in Ireland" Darragh Cullen – EDGE Innovate Managing Director.
Ormonde Machinery will be delivering the entire Edge portfolio of mobile and tracked stackers, feeders, radial truck unloaders, roll-sizers, trommels, shredders, flip flow screens, air separators, fines recovery plants and picking stations to the Irish market.
"Ormonde Machinery are delighted to be representing Edge Innovate in Ireland as the exclusive distributor. The EDGE portfolio adds another dimension to the Ormonde Machinery product offering as it not only complements the existing stable of products but also provides Ormonde Machinery the ability to provide tailor made solutions for the many industries that we service" Conal Mullan – Ormonde Machinery General .