Mercedes Benz Actros Irish fuel test results mirror those achieved in 16 other European markets
22/09/2015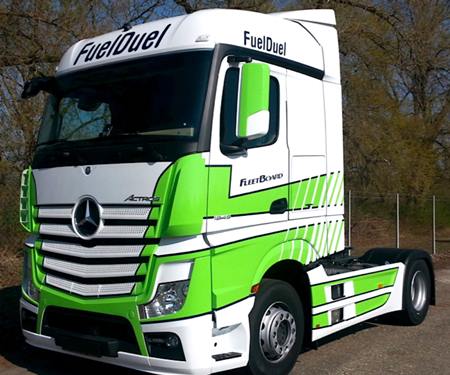 In tests conducted in Ireland, on Irish roads and in Irish conditions, the Mercedes-Benz Actros has proven just how fuel efficient it can be returning fuel consumption figures some 10.4% better than its main rivals.
Under the rules of the Fuel Duel Challenge scheme – which has been running in cooperation with leading heavy commercials fleet owners in Ireland since the beginning of January last – the Actros operates as part of a customer's own fleet and driven by the customer's own drivers for periods of two to three weeks duration.
During that time, fuel usage, driving style and other factors having a bearing on fuel consumption are monitored and measured by Mercedes-Benz's own FleetBoard system.
In comparable tests conducted on a European-wide scale, Actros proved to be more fuel efficient than its competitors in some 90% of cases. In 1,552 tests carried out over a distance of 7.3m kilometres across 16 countries, an exactly similar fuel saving figure of 10.4% was achieved compared to rival Euro V or Euro VI vehicles.
Commenting, their Commercial Vehicles Sales Manager, Fergus Conheady described the programme as one that has "delivered results that clearly mirror those in other markets and prove the Actros to be an extremely fuel-efficient truck on Irish roads."