Six decades of success
01/07/2015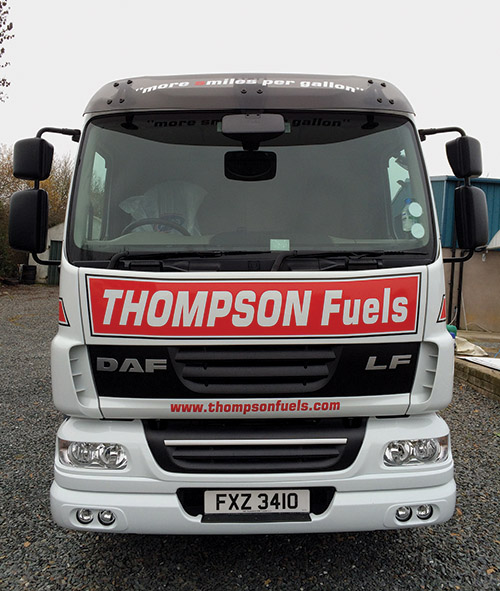 First set-up back in 1968, Thompson Fuels has established itself as one of the leading independent fuel providers in Northern Ireland. Irish Trucker spoke to one of the company's newest employees Lorraine Megaw to find out more.
From hauliers buying diesel to homeowners ordering kerosene, the price of fuel has increased considerably over the last couple of years but at Thompson Fuels in Co Armagh they've still been ensuring the lowest prices for their customers.
A family-owned company with over 40 years of experience in supplying oil, coal and gas throughout Northern Ireland, Thompson Fuels provide a reliable service with top quality products which enables them to meet all their customers' needs and requirements.
Since February of last year, Lorraine Megaw has become part of the team at Thompson Fuels as the company's accountant. In her 12 months at their Market Street address in Tandragee, Co Armagh Lorraine has quickly slotted into the routine which has seen Thompson Fuels providing a top quality service for what seems like a lifetime now.
"Our headquarters is in Tandragee, and we have four depots in Craigavon, Banbridge, Belfast and Fintona," she explained.
"David, Mark and Aaron Thompson are the three directors here. The company has been established since 1968 and we currently have 33 employees."
In testing times like these, having experience in the industry can give businesses the edge over their competitors. To this end, there are not many that can match Thompson Fuels, who have been supplying a top quality service to their large customer base for over 40 years now.
Thompson Fuels have witnessed many changes in the industry over the years and their ability to move with the times has been one of the reasons that their longevity is increasing by the year.
In a previous interview with Irish Trucker, director David Thompson explained that Thompson Fuels do their best "to accommodate the customer regardless of what they are looking for".
David also revealed that the main services supplied have not changed over the years and prompt delivery is one of the keys to their success.
David's father set up the business in 1968 and initially the main focus was coal delivery, a service that they continue to provide until this day. However, ten years after the genesis of Thompson Fuels, the fuel delivery service was expanded to include oil.
Lorraine sums up what they are all about today, explaining that coal delivery, in particular, has become a focal part of the business after some recent hard winters.
"We are an independent fuel provider which supplies commercial vehicle companies and domestic customers with diesel, oil, gas and coal," she said.
"When the business was first set up back in 1968, it was set up as a coal delivery company and since then the Company has expanded. The winter so far has been pretty mild but despite this our sales have continued to and as a result we have an additional two brand new lorries on the road to cope with the extra demand."
As well as the fuel delivery service, Thompson's also provide oil tank replacement; emergency run out services; oil suction and transfer service; mini tanker services; gift vouchers; gas cash and carry, sight gauges; special oil tank locking devices; oil watchman; emergency run out drums and coal cash and carry.
Company headquarters are in Tandragee, Co Armagh, but their customer base goes far beyond that area as depots in Craigavon, Banbridge, Belfast and Fintona mean that Thompsons are supplying fuel in four counties at the very least.
From their four main offices Thompson's offer a full range of services. Their customer base would expand to a 20-mile range from each depot and they do their utmost to maintain a same day delivery service.
There's no argument that people are far more aware of the prices these days than they were a few years back, so Thompson's try to ensure that they are always competitive in regards to their prices, while they are continuously looking at ways to improve the business.
For Lorraine, the success of Thompson Fuels has come down to three people in particular.
"The success of the company has come down to the brothers' knowledge of the business," she stated.
"We have a stable customer base which continues to increase and our staff look after our customers very well, which is of utmost importance to Thompson Fuels."
With such an extensive customer base, Thompson's are very conscious of the fact that a large fleet is needed to ensure that all deliveries are made on time.
The company operate a modern fleet of 17 lorries, all tankers are fitted with weights and measures approved sealed meters and they collect their own oil from the port in Belfast. All of the drivers are very experienced as indeed are all the employees. The drivers are representing the company on a daily basis and meeting the customers and Lorraine feels that they are fortunate to have such reliable staff.
All of Thompson's maintenance is subbed out and they know that it's important to keep the fleet well maintained as time is of the essence in this particular industry.
"Most of our trucks are DAF and our most recent purchases were two LF55 250 automatic 15 ton tankers built by Morrow's of Lisburn" said Lorraine.
"Our vehicles need to be up to speed with industry regulations and modern technology. As we outsource all vehicle maintenance, Morrow's was the obvious choice for us with their knowledge of the business and excellent engineering skills."
Should things go according to plan, you can expect to see Thompson's adding to their fleet again in the not too distant future.
For now, however, the hopes are to keep bringing in new customers and stay strong until the recession passes.
"We hope to continue increasing our customer base. We are always looking for new ways to improve the business. Recently we began offering oil tanker replacements.
"Most of the staff have worked here a long time, which is very positive and there is a great sense of teamwork and customer care as we endeavour to keep to our motto of MORE SMILES PER GALLON."
In September, Thompson Fuels proudly presented a cheque for £3,744.07 to Henry Middleton for the street kids in Mexico. Staff at Thompson Fuels would like to thank everyone who sponsored them on their 10 mile walk in aid of the charity.
Thompson Fuels
49 Market Street, Tandragee, Co Armagh
Northern Ireland BT62 2BP
Tel: 028 3884 0045 Email: [email protected]