New Bandon Road Service Station – Calling All Truckers
06/02/2015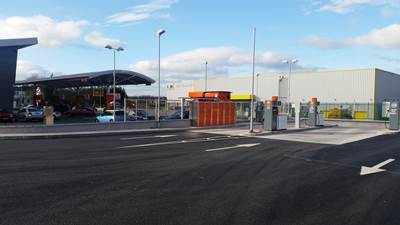 A brand new state-of-the-art service station restaurant and convenience store has opened for business of the Bandon Road.
The impressive new Amber service station and Costcutter store have been developed by the O'Brien family on their own site just past the Bandon Road Roundabout on the main west Cork road (N71).
The Amber branded forecourt is a state-of-the-art motorway services type facility offering all the services you would expect and more.
The 7,500 sg ft facility represents a €1.5m investment and has created 25 local and part-time jobs.
On site facilities include a modern forecourt with car wash, services and separate truck fuelling area as well as ample parking for up to 40 cars.
The site has a rear truck fueliing are which has and outside 24 hour payment terminal that truckers can fill up anytime, using either their DCI card or a credit card.
The station also stock MGO – green diesel.
The two-story main building includes a large supermarket, off licence and hot and cold deli.
There is also a separate barista café and plenty of restaurant style seating areas with free wi-fi as well as modern hygienic toilet and shower facilities.
Located on the main N71 West Cork route the service station will be the first 'online' stop encountered by holiday traffic heading from Dublin to West Cork and is advertised as the 'gateway to West Cork'
A spokesperson said, "The O'Brien family have been providing employment in the tea area for more than 50 years and we are delighted that this new development continues that tradition."