Premier supplier of aggregates, plant hire and contract crushing
16/07/2014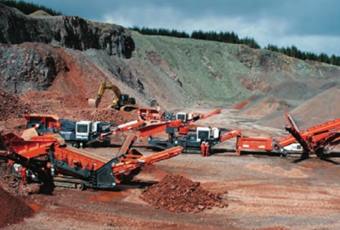 Since its genesis in January, 1992, Barrack Hill Quarries has played an increasingly-important role in the supply of high quality aggregates and stone to the Irish construction industry.
Irish Trucker dropped into the company's Dungannon, County Tyrone base and got an insight into day-to-day operations from director Cormac Og McDonnell.

Possessing unpreced-ented industry expertise and incorporating an armoury of some of the most up-to-date quarrying machinery available, continued development has seen Barrack Hill Quarries invest in the latest crushing and screening equipment in order to process quarried materials even more accurately, whilst simultaneously improving production efficiencies and reducing emissions.
Using their fleet of twelve heavy haulage vehicles (DAF and Scania), the company supplies materials in various sizes for projects large and small. The materials supplied range from quarry dust to boulders, either as crusher run or clean stone, including various sized aggregates ranging from 6-150 mm, gabion stone, rock armour, boulders and rubble, as well as the supply of filled sand bags.
Projects catered for include private housing developments, water-sewage treatment works, road construction, sea defences, road construction and a veritable myriad of other projects.
In order to effectively produce and supply a wide variety of stone and aggregate - for such a wide variety of applications - Barrack Hill Quarries has continuously invested in a variety of equipment, from a cross section of the leading construction equipment manufacturers. The common denominators for the equipment acquired is that it has to be tough, hard wearing, efficient, minimise negative environmental emissions, possess the highest standards of health & safety and contribute to the overall efficient productivity of the operation.
The range of equipment currently operated includes a range of excavators from 13-100 tonne; dozers; dumpers ranging from one tonne upwards; a tracked crushing and screening train; as well as individual scalpers, screens (double and triple deck) and crushers.
Some of the newest equipment invested in has included the latest innovations from Sandvik Construction's range of tracked crushers and screens. Barrack Hill Quarries now operates a full range of Sandvik equipment including jaw crushers (the QJ341), cones (QH331 & QH440) and screeners including the 4-way split QA450 doublescreen.
The latest pieces of crushing equipment added to the Barrack Hill Quarries fleet were two Sandvik QH331 track-mounted cone crushers - a more environmentally-friendly, economical and efficient machine than its predecessor.
Barrack Hill Quarries Ltd. is a family-run business, which was established by current Managing Director Cormac McDonnell. Starting with just five employees, Cormac's aim was to use his industry expertise in synergy with the naturally occurring basalt within the quarries in order to provide a source of high-quality aggregates for the construction and associated industries. Today, Barrack Hill Quarries – in tandem with its sister company EPL Ltd. - employs around 50 people in a variety of roles.
Through EPL's three plant hire depots, a full complement of construction equipment is available – mini diggers, excavators, crushers etc., while contract crushing and heavy haulage services are also offered.
The growth the business has experienced is fundamentally due to Barrack Hill Quarries now being regarded as one of the premium aggregates suppliers in Ireland. However, as it has expanded the business has also diversified into related areas such as demolition, recycling, plant hire, civil engineering, crushing and screening contracting.
Barrack Hill Quarries boasts two plant set-ups: a static crushing and screening operation as well as a mobile operation based at the quarry face, which is based around the Sandvik machines.
The founder / MD attributes the success of his company over the last 21 years to sound management and good business practice. "We have always operated a quality driven quarrying operation, but we have been aware of the possibilities that exist in related business areas to not only use our expertise, but also the equipment we own," he notes.
Despite these diversifications, operations are still very much centred on the original Barrack Hill base, and it is from here that Barrack Hill Quarries sets out to supply gradings of material for uses in various applications throughout Ireland. Recently awarded ISO 9001 accreditation in recognition of its quality management systems, Barrack Hill Quarries has from its inception been geared towards providing the materials required, when they ae needed, and all to precise specifications.
As a result of these exacting standards, the company counts amongst its clients some of the biggest players within the Irish construction industry including such names as Sisk Construction, Laing O'Rourke, Tarmac UK, Farrans Construction (part of the CRH Group), Graham Construction and Rail Track Ltd., all of whom rely upon Barrack Hill Quarries for the supply of aggregates.
An added benefit of possessing such versatile and productive equipment as the Sandvik mobile crushers and screens has been the ability of Barrack Hill Quarries to provide a wide range of additional services through its sister company, Equipment and Plant Hire Ltd (EPL), which was bought in 1993 and has outlets in Belfast, Ballygawley and Enniskillen.
Thus the company now provides a contract crushing service for Farrans, Pitwood Quarries Ltd and McCormick Demolition, to name but a few, as well as demolition, recycling, muck shifting, site clearance and plant hire, throughout Ireland. Additionally civil engineering contracting has become an increasingly important part of the business, with the company playing a major role in the construction of the M1 motorway between Dublin and Newry as well as further road construction on the N11 in conjunction with Ascon Road Construction Ltd., building work at Dungannon College and the building of a specialist recycling facility in Lurgan.
To be able to prosper in a highly competitive marketplace in a difficult economic climate requires a business to embrace flexibility, customer focus, commercial acumen and the latest equipment. All of these facets are very much to the fore at Barrack Hill Quarries as they produce the right materials, utilising methodologies and equipment that has driven their costs down whilst increasing productivity.
The 40.5 hectare quarries at Barrack Hill date back some 50 years, with blasting for material carried out once a month, when some 30,000 tonnes is removed. This is taken to the static plant using two 60 tonne Terex rigid dump trucks.
Loading is carried out by numerous machines which are also used to feed the mobile crushers. These include two Komatsu WA470 wheeled loaders; one Volvo L150G wheeled loader; two Komatsu PC450 hydraulic excavators; a Komatsu PC340 tracked excavator; and a Komatsu PC240 hydraulic excavator.
The static crushing and screening plant is older than the mobile set-up. Material is loaded into a Kue Ken primary jaw crusher with another Kue Ken and a Pegson cone crusher both being used as secondary crushers.
From its own state-of-the-art workshop, Barrack Hill Quarries carries out all its own repairs and maintenance in-house.
Looking to the future of this outstanding family business – which is fronted by Cormac Snr., Cormac Og and Feargal McDonnell – Cormac Og concludes: "We've just opened a quarry in Nigeria six months ago, which is a major departure. We've also done crushing in Scotland and England in the past, but there are big opportunities out there and we've decided to go for it.
"There has been a slowdown in construction in Northern Ireland. We are down to about 40% of what we used to do, so the key is to minimise costs and to seek out other opportunities, while continuing to provide the same service we're renowned for."

Barrack Hill Quarries
96 Largyley Road, Dungannon, Co. Tyrone BT70 2NX
Tel: 028-87758644