Frigospeed, the refrigeration specialists
21/05/2013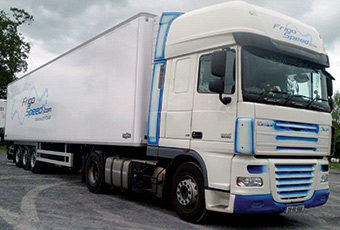 Frigospeed Ltd is a well-established company specialising in refrigerated transport. Based in Paulstown, Co. Kilkenny, the company is run by husband-and-wife Tom and Sandra Buckley who have a wealth of experience in the transport industry. Before setting up Frigospeed in 2001, Tom was employed in his father James' international haulage firm, while Sandra worked for the leading freight ferry agent, Victor Treacy International and International Trailers, Bagenalstown, Co. Carlow.
"Tom is a native of Cappoquin, Co. Waterford and I'm from Bagenalstown, but we ended up setting up the business in Paulstown, which is on the Kilkenny-Carlow border. We also have a yard in Naas. In the early days of the company, we provided both a nationwide and international service, but since 2003 we have been concentrating mainly on the domestic market."
Frigospeed's reputation for quality, reliability and value-for-money has seen its customer-base grow substantially over the years. Its excellent facilities and modern fleet, coupled with an unrivalled dedication to customer service, enables Frigospeed to meet a wide range of customer needs.
"We work mainly for retail companies as well as fruit and vegetables producers. We specialize in chilled, frozen, ambient and containerised produce," Sandra explains.
"We can offer cold storage for nationwide distribution. Being a small to medium sized company allows us to get to know our customers and their individual needs. Having worked as a retailer distributor for many years, we understand and appreciate the importance of delivery schedules, route planning and time management."
Frigospeed operates a fleet of high-specification temperature controlled vehicles which provide the appropriate conditions to ensure the safe arrival of even the most sensitive of cargoes.
The company boasts a fleet of DAF 105 and DAF 95XF trucks and Chereau trailers, which are made up of twin and triple evaporators. Tom and Sandra have just taken delivery of a new Chereau fridge trailer fitted with a Carrier Vector1850MT triple evaporator from International Trailers in Bagenalstown and T.S.S, Dublin. "We see that the requirements of trailers specification are changing and triple evaporator trailers are the way of the future". With their distinctive blue and white livery, the Frigospeed fleet is a familiar sight on Irish roads.
All of Frigospeed's trailers are 33 euro pallet semi-trailers and are equipped with tails lifts.offering the option to carry frozen/fresh and ambient good simultaneously with the choice of floor loader or tail lift entry.
Avoiding damages and keeping schedules would not be possible without maintaining tractor units and trailers to the highest standards in compliance with national testing criteria. The Frigospeed trucks and trailers are cleaned inside and out before every consignment collection.
While maintenance work is carried out in-house by Tom himself, more complicated repairs are referred to DAF, Carrier (TTS) or Thermo King (Naas refrigeration). All truck parts are supplied by Bennettsbridge Parts in Co. Kilkenny, while Frigospeed purchases its tyres from Heffernan Tyres in Kildare town, who received the Semperit Tyre Retailer of the Year award for 2011.
"All the companies that we deal with provide an excellent service and that's why we keep going back to them," Sandra continues.
Modern technology allows Frigospeed to use GPS to instantly locate its drivers with pinpoint accuracy. Customers have the option of being provided with access to the Frigospeed tracking system so that they too can follow the progress of their consignment. Internet access to the service means customers can check their consignment's location and temperature at any time.
The staff and drivers at Frigospeed have many years' experience in the transport industry. By making one phone call, you can be confident that your transport needs will be met.
Sandra is extremely appreciative of the business Frigospeed has and continues to receive from its customers. She is also full of praise for the company's staff.
"Our policy is to keep our customers happy 24/7. We're totally committed to looking after their needs and are always open to any suggestions which they might have.
"I would also like to pay tribute to our staff, who have played their part in the success and growth of our business. We strive to keep our workforce happy at all times. The fact that many of them are with us for a long time reflects well on us, I think," she concludes.

Frigospeed Ltd
Shankill,
Paulstown,
Co. Kilkenny
Telephone: (059) 9726459
Mobile: (086) 8371520
Fax: (059) 9726945
Email: [email protected]
Website: www.frigospeed.com