McFarland go wide and far
02/05/2013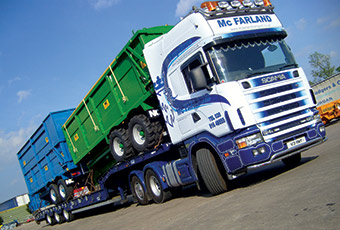 Permits are needed for the transportation of such goods and this means that not many companies throughout Ireland can carry out these duties.
Operating on a national and international scale, this Omagh based company has established a client list that covers some of the leading firms based in this country.
Experience is vital in the haulage industry especially in the current economic climate as every decision has to be made with the utmost precision and to this end, McFarland's have that commodity in abundance.
Established in 2001, this business specialises in low loader work, supplying a specialised service to their long standing customer base.
For this month's edition of Irish Trucker, we profile this company and speak to Managing Director Raymond McFarland about the success of the business.
Located in Omagh, Co. Tyrone the company is ideally located to carry out their daily duties, which sees them travel throughout Ireland, the UK and mainland Europe.
"We provide a competitive haulage service to destinations throughout Europe and the UK and we also carry out work throughout the 32 counties" revealed Raymond.
Having no background in the haulage industry, it became intriguing as to why Raymond ended up in this sector and he picks up the story from here.
"I would have had a background in farming, but always had an interest in lorries. I worked in England for a few years where I was farming and when I moved back home, I was bringing straw in from England," said Raymond.
"I also started driving for Ewings and before long I decided to buy a lorry myself and bring the straw over. From there, the type of loads that I was carrying diversified greatly and now we transport anything in the wide load category generally.
Raymond chose a Scania as his first truck and he has stuck with the Swedish make ever since as he finds them the most reliable vehicle on the road.
"I like the Scania, they are reliable and efficient and I can't complain about the few that I've had. I do keep them well maintained and try to change them every few years.
"I have an older model and just last year I added another truck. There is a young lad working with me here - he grew up with me and always wanted to drive a lorry so with the workload increasing, I decided to buy another one."
Raymond admitted that there is plenty of legislation to be adhered to when it comes to the transportation of wide loads in every country.
"There are permits needed no matter where you go, especially to transport abnormal loads. Thankfully, I've the full range needed to operate in Ireland, UK and Europe."
McFarland Transport can offer an excellent service that can be tailored to meet the customers' demands.
"We can provide scheduled transport services collecting and delivering all types of goods and produce throughout Ireland and Europe. We are a fully licensed Haulage Company and our customers seem to be happy with the service that we provide."
Raymond is pleased with the direction that the business is heading in, but like all hauliers, he is feeling the pinch when it comes to the diesel bill.
"The price of diesel has really hit everyone hard. It has now surpassed everything else and it seems to be rising all the time. It's a situation that we have to deal with until there is something done about the prices.
The rise in the cost of diesel is not the only problem that Raymond has encountered in the industry as he explains.
"Ferry prices have risen dramatically as well and when like us, you're spending a lot of time on the sea, then this is another cost that is hard to cope with.
"The ferry prices just seemed to go up overnight and they have slipped in under the radar and there is nothing being done about it either, which is a shame."
Nonetheless, Raymond is pleased by the direction the company is heading in: "The business is still growing and we're delighted with that. Our aim for 2012 is to continue expanding and be best in our class and try to be better than our competitors."

McFarland Transport
50 Letterbrat Rd,
Plumbridge,
Omagh,
BT79 8DX
Tel: 028 8164 8555