The best by Moyles
19/04/2013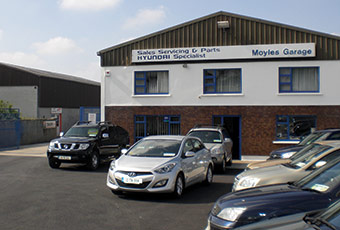 Ideally located within the heart of the midlands and just 90 minutes from Dublin, Moyles Garage on Nenagh's Old Birr Road supplies quality new and pre-owned cars, 4X4s, MPVs and vans to a wide selection of satisfied customers. But the transaction doesn't end with the handing over of keys - the back-up service provided is quite simply second to none.
Specialising in Hyundai but with a thorough working knowledge of all manufacturers, Moyles Garage offers the complete package - sales, service, parts and everything in between. Operating a new computerised commercial test lane, the County Tipperary place of excellence also provides VTN testing for light and heavy commercial vehicles.
The founder boasts a veritable wealth of experience of the motor trade. Tom Moyles served his time with E.A. Moynan on Clare Street, Nenagh. He also worked with Oliver Madden, Cloughjordan, Kellers Garage, Nenagh before returning to E.A Moynan for a further 12 months. E.A. Moynan then decided to close their garage and Tom found himself out of work.
"It was a bit of a coincidence that I finished back where I had started. I was just after building my own house and had little or no money to my name but I managed to start working for myself at the rear of the house. I have often said that I started with the sky over my head. I had to work outside in all weather," said Tom.
"I would like to thank those people who came to me to get their repairs and servicing done, in fact some of those people are still loyal customers today. As I had just borrowed to build a house, the bank would not lend any more money to build a workshop. I had to save bit by bit to build a workshop 20ft x 22ft. I worked from there from 1975 to November 1990."
Building the business was Tom's aim but he had to do so through a personal tragedy.
"It was during this period that I suffered my greatest loss. In June 1981 my lovely wife, Elizabeth, was diagnosed with breast cancer and in July 1983 she lost her battle with the disease at the age of just 34. She was a wonderful lady in every way. I was left with five children to bring up, ranging in ages from one to 12-years-old. To this day my children have never caused me any problems and are my best friends."
As the business continued to grow, Tom purchased land on the outskirts of Nenagh on the Old Birr Road where he built a much more spacious workshop.
"On the 2nd of November, 1990, I started here on the Old Birr Road. The following year I built a new heavy testing facility and in 1992 light goods testing came in and we extended the testing to two lanes.
"I took on the Hyundai franchise in 1991. I was the third dealer in the country to be appointed. I kept the Hyundai franchise until March 2004. As with all distributers Hyundai wanted new showrooms built and at that point in time margins were getting smaller and overheads were getting higher. I had no debts and intended to stay that way, so I did. I am now a Hyundai sub-dealer."
With a sophisticated, state-of-the-art on-site workshop and embracing all the latest equipment/technology, Moyles Garage provides a full range of workshop services including servicing, NCT preparation and both mechanical and bodywork repairs, working on all vehicle types. This business has come a long way since Tom took it upon himself to go out on his own almost four decades ago and all the signs are that the future is bright for Moyles Garage, despite the economic downturn currently wreaking havoc with the industry in general.
"I would blame the Green Party for a lot of the problems that were caused to the motor industry. They have a lot to answer for. People that bought vans etc. now cannot afford to tax them or keep them. As a result garages have lots of spare parts that we cannot sell," said Tom.
On the testing side of the business, the prime location of Moyles Garage brought regular business from local fleets, including the likes of Eircom, An Post and Nenagh Co-Op. There were boom times for a while but, as Tom points out with a rueful smile, fleets have dwindled in size since those heady days of short-lived national prosperity and a large percentage of this work has dried up. Still, he's kept reasonably busy and continues to provide an exceptional level of service across the board.
"We can cater for everything from cars to light and heavy commercials. We keep the workshop up-to-date and we use all the latest tools and technology. It's important to keep up to speed with developments in the industry. There are two fully-qualified mechanics here at the moment, plus myself."
Tom manages the test centre himself and he admits that, with the workload unpredictable, he experiences a lot more quiet days now than he did in 2011: "This time last year the test centre was booked up fully two weeks in advance. Now you take it day by day. There has been a huge drop-off compared to this time last year.
"To be honest, we would struggle but for the fact that we haven't many overheads. This allows us to focus on providing a quality service at an affordable price. I own everything here and it's all fully paid for with no loans or debts hanging over the business.
"When I built the garage, interest rates were 21% and I had bought a 2.5 acre site which has served us well. I managed to get it paid for within eight years and that has left us in a very strong position. We're in a great location and we have plenty of space here."
It's difficult to measure the sheer amount of work that Tom invests into the garage. He runs a very tight ship and puts in the hours – every day! He is open for business from 8:30am until 7:00 pm and is the first man in and last man out.
Moyles Garage carries all the main parts for top manufacturers, including Hyundai, though the MD notes that "Hyundai are so reliable that you need to stock very few parts…"
As for the current downturn, he adds: "These are bleak times for the motor trade in Ireland and I'm worried that it could get worse before it gets better because there are a lot of empty houses and cars 'off the road' and things are going from bad to worse. We get enquiries now asking how much a service will cost and that never happened before. Obviously, there are a lot of variables involved in every service and you can't give a definite price over the phone as vehicles have to be serviced properly, some people can't afford to spend their money because of all the uncertainty and who could blame them.
"Either way, things are hard for garages. We only have about 50% of the commercial work we used to have. The fleets have diminished and the tradesmen are gone. It's a totally different landscape.
"I'm in my 50th year since I started in the industry and I've seen a lot of changes, a lot of ups and downs, but this is definitely worse than the 1970's. Back then, everybody had room to go forward. Now people are just emigrating because there is no hope and you even see cars just abandoned at the side of the road.
"Finance is difficult to get and it's only really customers with their own money who are buying cars. Sales are low, so servicing and testing have become the bread and butter. Fortunately, we benefit from a lot of repeat custom from clients we looked after over the years and that's keeping us going."

Contact Details

Moyles Garage
Old Birr Road,
Nenagh,
County Tipperary.
Phone: 067 31019 / 31385
Mobile: 087 2631286
email: [email protected]
Sat nav co-ordinates:
N: 52° 52.229' W: 8° 11.526'
www.moylesgarage.ie